Christians in Syria Will Pay If Assad Is Overthrown, Says Rand Paul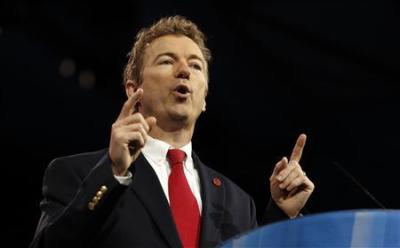 A victory for Syria's "Islamic rebels" and an overthrow of President Assad would endanger Syrian Christians, Senator Rand Paul (R-KY) asserted on NBC's Meet the Press Sunday, speaking out against U.S. military intervention in Syria.
"I think the Islamic rebels winning is a bad idea for the Christians. All of a sudden we'll have another Islamic state where Christians are persecuted," said Rand.
Rand Paul's comments come weeks after Egyptian Coptic Christians were subject to an intense wave of violence directed at them by Islamist extremist groups scapegoating them for the overthrow of the Muslim Brotherhood's President Mohammed Morsi. Four people were killed and over 60 churches damaged or destroyed in violence targeted at Coptic Christians for their support of the movement that saw Morsi taken out of power.
Christians make up 10 percent of Syria's population and have expressed concern and fear since the Arab Spring protests began in 2011. Like many other Christian minorities in the Middle East countries like Egypt, Libya and Iraq, Syrian Christians often protected themselves by striking deals with the government, said Tamara Alrifai, the Human Rights Watch Advocacy and Communications Director for the Middle East and North Africa Division.
When these governments and their autocratic rulers were overthrown, Christians were not only left without the protection of the government, but in some instances became targets themselves for working with and at times supporting the former powers.
Even though Syrian President Bashir Al-Assad is still in power, Syrian Christians have already been subjected to attacks by rebels in the country. On June 27, a suicide bombing by Islamist rebels in the Christian neighborhood of Damascus killed four people. In July, an Italian priest, who had spent most of his life in Damascus, disappeared. Currently, Al Qaeda-affiliated rebels are suspected in his killing.
This type of violence directed at Christians follows a similar pattern in the region. Since the start of the Iraq War, two hundred thousand Iraqi Christians have fled, roughly half of the country's refugees. Dozens of Libyan's Coptic Christians have accused the government of torturing them. In Egypt, prior to the most recent attacks, tensions between Coptic Christians and Muslims were high, and in January and February Muslims attacked Coptic Christians' churches on several occasions.