Christmas Controversy in Detroit: Satanic Temple to Bring Back 'Snaketivity' to Counter Nativity Display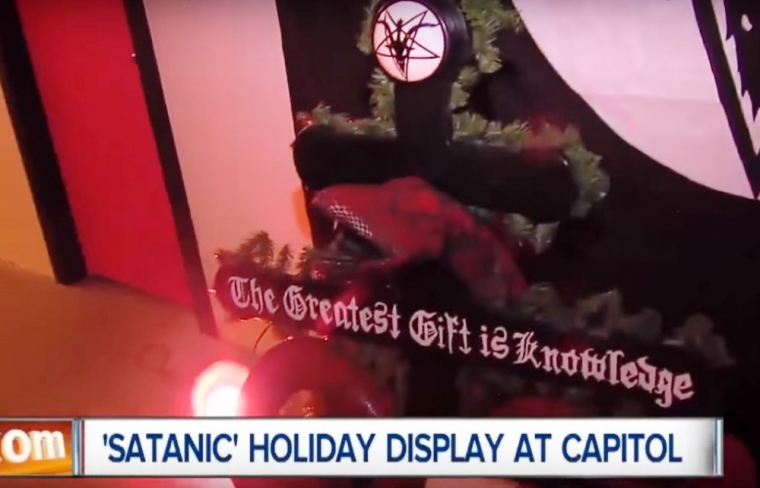 The Satanic Temple of Detroit wants to bring back its "snaketivity" display in response to a live nativity scene being planned on the lawn of the Michigan Capitol this Christmas season.
Republican presidential candidate Ted Cruz's supporters are planning to host a live nativity and hold caroling activities on the Michigan Capitol lawn on Dec. 12 and 13 to celebrate Christmas and bring families together. However, the Satanic Temple of Detroit will not allow one religion to dominate the holidays so the members are also hoping to once again put up its "snaketivity" display once again, according to MLive.
In addition, the temple will file an application to the Michigan Capital Commission to hold its own holiday ceremony on Dec. 19. Director Jex Blackmore said they want to convey the message of "plurality and religious liberty" by displaying the snaketivity scene, Religion News reports.
"We have no interest in proselytizing Satanism to the public. However, we refuse to allow one religious perspective to dominate the discourse," MLive quotes Blackmore's statement. "For that reason, When there is one religious display on public grounds, we'll offer another, and we urge other minority voices to do the same."
The temple first stirred controversy during last year's Christmas season by putting up the "snaketivity" display on the Michigan Capitol lawn. Various groups are usually allowed to reserve a spot on the lawn if their display complies with the time and size requirements given.
On Dec. 7, State Representative Mike Callton (R-Nashville) is planning to put up a Chanukah display, while Sen. Rick Jones (R-Grand Ledge) will begin his nativity display on Dec. 19. While Jones said he acknowledges the freedom of religion of every American, he urged his supporters to simply ignore the "snaketivity."
On Wednesday, the Christian group Salt & Light Global sponsored a Rally for Religious Liberty. Members of the Satanic Temple of Michigan attended the rally to support the group's call for religious freedom.