Chuck Colson Honored as 'Champion' of Christian Faith at Memorial Service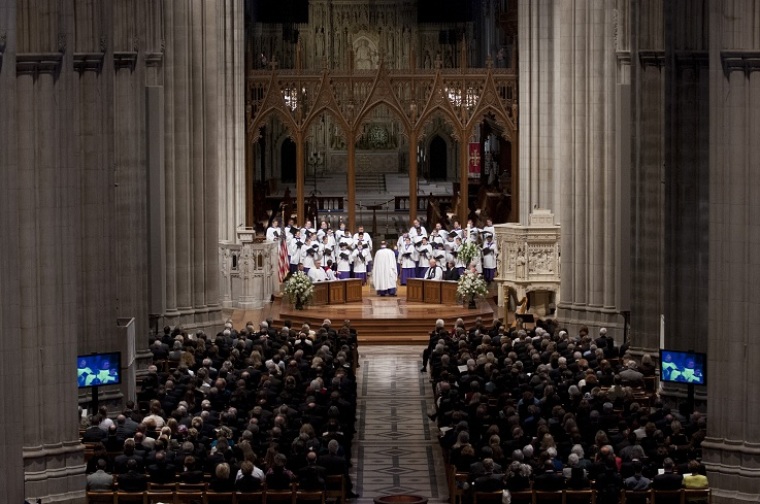 The impact that evangelical leader and Prison Fellowship Ministries founder Charles W. "Chuck" Colson left on the lives of his family, friends and the Christian world was celebrated during a public memorial service at the Washington National Cathedral on Wednesday.
Thousands, including politicians and notable Christian leaders, filled the pews of the historic church to pay tribute to Colson, who was remembered by loved ones as a dedicated "champion" of the Christian faith and an extraordinary man who glorified God in everything he did, whether it was through loving his family or sharing the love of Jesus to prisoners.
His daughter, Emily Colson, said the memorial was a celebration for a life "well-lived." She testified that Colson always put God first and his family next. Still, he was "fully present" for his family, calling her once a day to talk and always clearing his schedule to spend time with his 21-year-old grandson Max, who is diagnosed with autism.
Emily called upon those who have been touched by Colson's life to carry on her father's legacy.
"What will we do in the shadow of such a great role model? There is work to be done. I encourage you to continue the work my father has done: Do the right thing. Seek the truth. Defend the weak. Live courageous lives," she said.
Colson passed away last month at the age 80. A special counsel to President Richard Nixon, Colson famously converted to Christianity while serving a prison sentence for Watergate-related crimes. His transformation and faith led him to found Prison Fellowship, a ministry that now shares the Gospel with inmates in 113 countries around the world.
Danny Croce, a prisoner who went on to become a prison chaplain after Colson led him to Christ, characterized Colson as a "friend of sinners." Croce said it was in a roach-infested jail 26 years ago when God revealed Himself to him through Prison Fellowship. With a Prison Fellowship scholarship, Croce studied to be a chaplain and today leads the New Hope Correctional Ministry in Plymouth, Mass.
Croce painted a portrait of Colson as a man who never forgot what God had done for him, using every opportunity to share that transformative love to inmates. He said Colson made sure to spend every Easter dining with the prisoners at the facility where he was visiting.
"There are some people you meet in life and you have to love them. They give you no reason to not like them and Chuck was one of them," said Croce.
"He used his time to glorify God and left such a great example of eating with sinners."
The Honorable Albert H. Quie, former governor of Minnesota and former acting CEO of Prison Fellowship, said Chuck Colson was the "messenger of Good News," not just in word but in deed.
There was as no one who could forgive like Chuck Colson, according to Quie.
"When he would forgive, his whole body showed forgiveness. He would never say anything negative about that person again," he said.
The Rev. Dr. Timothy George, chairman of the board of directors for the Colson Center for Christian Worldview, delivered the homily, recounting some of Colson's most enduring works and comforting those gathered that God will continue to be with them as He was with Colson.
George gave insight as to why Colson went on to do such transformative work in his lifetime, saying, "He never got over the wonder and surprise of encountering Jesus Christ as a real person."
He said Colson identified as a Baptist but had a vision for reconciliation among believers of Christ. This passion for unity led Colson to spearhead two initiatives: Evangelicals and Catholics Together, two documents that declared common ground between Catholics and evangelicals; and Manhattan Declaration, an ecumenical document which calls on Christians to defend the sanctity of human life, traditional marriage and religious freedom.
"Chuck believed in these things deeply and he stood for them with courage," said George.
Family members including Colson's son Christian Billings Colson, granddaughter Stephanie Casper Colson, grandson Charles Christian Colson, and granddaughter Caroline Usry Colson read Scripture during the service. Patty Colson, the surviving wife of Chuck Colson, attended the service.
Wintley Phipps performed several of Colson's musical favorites, including "Amazing Grace."
Colson died April 21, 2012, after suffering a brain hemorrhage. A former marine, Colson was laid to rest with full military honors late on April 28 at Quantico National Cemetery.