Chumlee Hoax? Austin Chumlee Russell Death Hoax Shocks Pawn Stars Fans (VIDEO)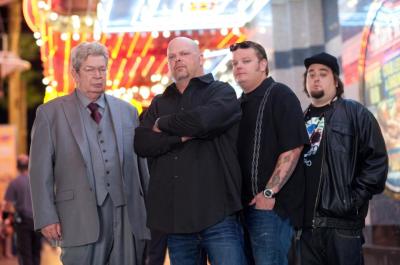 Chumlee of "Pawn Stars" has been the subject of an Internet death hoax this week.
Rumors of a marijuana overdose were reported this week, claiming that the reality TV star had died from an accident.
The rumors went viral with many of Chumlee's fans expressing their sadness and shock that he had died, and from a drug overdose at that. However, Chumlee soon stunned the fans even further when he took to his Twitter account, revealing that the rumors were simply a hoax and that he was alive and well.
There were a few days between the death rumors first starting and Chumlee debunking the rumors as a hoax, and in that time the news of his death had already spread far and wide.
"#not #dead #chumlee #magic #howto #selfie (sic)," Chumlee tweeted along with a Vine video.
Austin "Chumlee" Russell is one of the stars of Pawn Stars - an American reality television series, shown on History, and produced by Leftfield Pictures.
The series is filmed in Las Vegas, Nevada, where it chronicles the daily activities at the World Famous Gold & Silver Pawn Shop, a 24-hour family business opened in 1989 and operated by patriarch Richard "Old Man" Harrison, his son Rick Harrison, Rick's son Corey "Big Hoss" Harrison, and Corey's childhood friend, Chumlee.
The show, which debuted in July 2009, became the network's highest rated show, as well as the No. 2 reality show behind Jersey Shore.
The series depicts the staff's interactions with customers, who bring in a variety of artifacts to sell or pawn and who are shown haggling over the price and discussing its historical background, with narration provided by the Harrisons and occasionally Chumlee.
Here is a previous video featuring Chumlee from Pawn Stars:
Pawn Stars | Behind the scenes of Gold & Silver Pawn with Chumlee