Church Funds 'In God We Trust' Decals for Vehicles of NC Sheriff's Office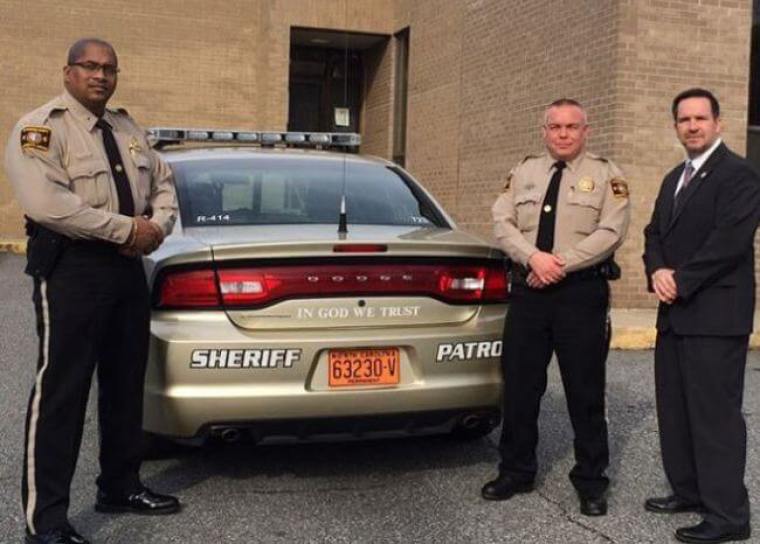 Thanks to a local church, every patrol car operated by the Rutherford County Sheriff's Office in North Carolina, will now proudly sport new decals with the nation's motto "In God We Trust."
Sheriff Chris Francis explained in a press release that his office had been considering the display of the motto on patrol vehicles for the last several months but he was having trouble funding the idea until Pastor David Ledford, of Fairview Baptist Church, in Golden Valley stepped in.
Pastor Ledford offered to fund decals for the 50 vehicles in the current fleet as well as the cost of adding decals to any new ones in the future.
"I am very appreciative of the church's donation that has allowed this project to get underway," said Sheriff Francis, who noted, "I whole heartedly believe in our Nation's motto and am proud that it will be displayed on the Rutherford County Sheriff's vehicles."
In a FOX4KC report, Francis further explained how he felt about the decals.
"We looked at it as an opportunity to show our patriotism," he said.
"I want to make sure that my deputy sheriffs know what 'In God We Trust' means. And how blessed we are to be citizens in America, to live in Western North Carolina and to be able to support our nation's motto," he continued.
Francis said he is aware that adding the decals to the patrol cars won't make everyone happy but he expects a positive reaction as well to the move.
"I'm sure that there will be many positive remarks. But I'm sure that with every decision I make I won't make everyone happy," he said.
He explained that he had heard that other sheriffs are contemplating a similar move and he encouraged it.
"I wish that more localities would show their patriotism, show what they believe in," he said. "I think our nation would be in a different place if they would."
The Christian Post reached out to Fairview Baptist church for comment on this story but no one responded.
Just last month, the city council in Lake Charles, Louisiana, voted unanimously to have "In God We Trust" decals placed on 200 vehicles, including police patrol cars, fire trucks, and public works vehicles.
City Councilman Rodney Geyen, who sponsored the measure to have the decals placed on city vehicles, told local station KPLC-TV that he believes the stickers will help civilians have trust in local law enforcement.
"I think when the citizens of Lake Charles see such stickers displayed on our vehicles they have a feeling of trust in their elected officials," Geyen told the local media outlet.
FOX Carolina 21