Church of Norway Approves Gay Marriage After 20 Years of Internal Debate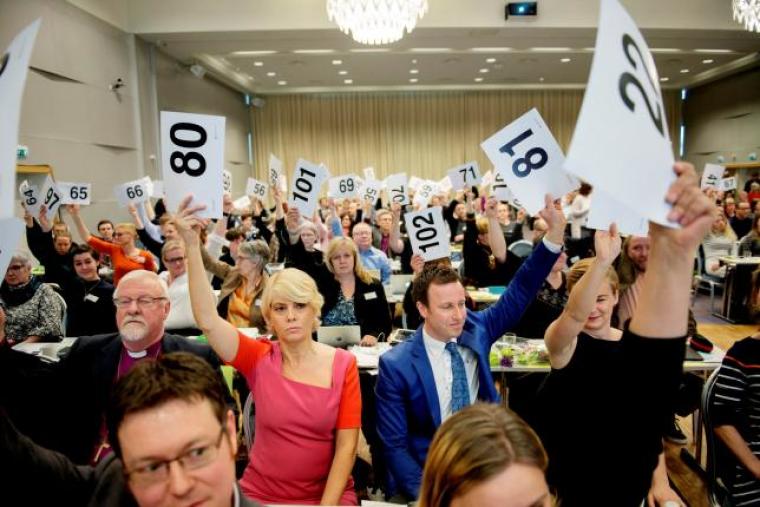 The Church of Norway has voted 88 to 32 to allow gay people to be married in church, following almost two decades of debate on the controversial issue.
English-language Norwegian media The Local reported on Monday that The Bishops' Conference approved the vote.
"For my part, and the thousands who I represent here, the disappointment, sorrow and uncertainty is great. Disappointment and sadness because today we are introducing a doctrine that a unified diocese called heresy in 1997. This goes against the Bible and Jesus's word on marriage," said Rolf Magne Haukalid, one of the opponents of the Norwegian church sanctifying gay marriage, according to NRK.
The chairman of the Oslo diocesan council, Gard Sandaker-Nilsen, offered an opposing view at the conference in Trondheim, however, saying:
"This is a big day for me, for Åpen folkekirke (Open people's church, ed.) and for the Church of Norway. Finally we will celebrate love regardless of whom one loves."
Although the proposal to add gay people to the definition of marriage had been rejected every time in the past, including the last time it was brought up in 2014, there had been growing support for the position, with 15 of 23 committee members stating before the conference that gay marriage should be allowed.
The Associated Press added that the decision on Monday still allows priests who disapprove of same-sex marriage to decline to perform such ceremonies, such as the case in other Scandinavian countries, including Sweden and Denmark.
Civil gay marriage has been legal in Norway since 2009, though the state Church was allowed to develop its own liturgy.
According to 2011 statistics, as much as 82 percent of the Norwegian population is officially part of the Church of Norway, but a study released in March found that as high as 39 percent of Norwegians say they do not believe in God, while only 37 percent said that they do — with the other 23 percent being undecided. This marked the first time that a majority of Norwegians say they do not believe in God.
Jan-Paul Brekke, who oversaw the poll through Ipsos Norway, admitted that the survey did not provide an exact definition of God.
"It could be the Christian God, an independent god or one from other faiths. But since we started asking the question 30 years ago, the percentage of those who said they aren't sure has been about the same," Brekke said at the time.
He added: "There are quite a few immigrants included [in the survey] but the majority of them come from Western religious traditions. We have only a few Muslims in our material."