Church's Sex Offender Housing Shutdown by State
A pastor who established a church and camp community for convicted sex offenders has been ordered to shut down his ministry.
Ricky Martin, who founded Triumph Church in Clanton, Alabama, in 2010 hosted more than 50 convicted sex offenders in his ministry's four years of existence before the state's legislature passed a law banning it on Tuesday.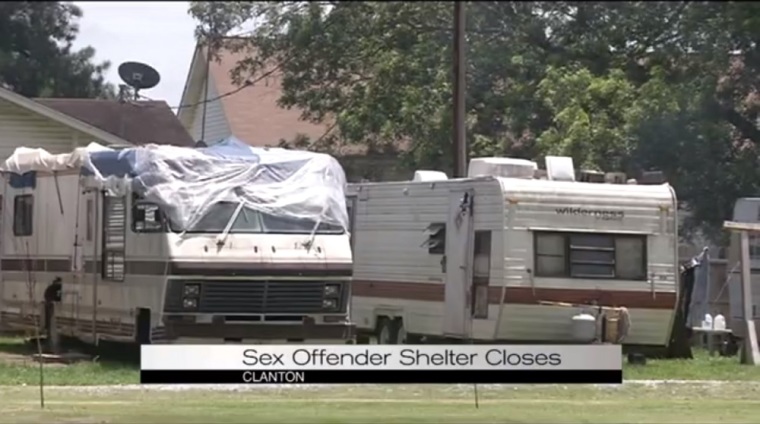 "It's against my constitutional rights. This is a state coming against a ministry," Martin told The Associated Press.
Around six men still live in campers and other recreational vehicles on site, which Martin must evict, after prosecutor C.J. Robinson wrote a bill that prohibits "more than two convicted sex offenders from living within 300 feet of each other on the same property unless they are married." The law will only take effect in the rural Chilton County, where Martin is based. The church sits right outside of Clanton, which boasts a population of 8,700.
"I think his motives are good. I just disagree with the way he's going about it," Robinson, the chief deputy district attorney, told the AP.
Debra Morrison, a local resident and grandmother who lives beside Triumph, expressed relief at the state's decision.
"I'm just glad it's over," she said.
Martin defended his actions, and said he met men with no place to go while serving as a volunteer chaplain in a state prison. He came up with the idea of a sex offender refuge in rural Chilton County, far away from any schools or daycare centers, and began screening parolees to live there.
"You know what Jesus said? He said, 'When you help the least of these you help me,'" said Martin. "No one else will help these people."
Martin also added that none of the men — 32 of them who are convicted rapists and the majority of whom have sexually abused a child — had committed crimes since moving to his site.
Martin is not the only pastor who has created a community for sex offenders.
In 2010, ABC News profiled Dick Witherow who leads a "miracle village" for more than 60 sex offenders in Florida. According to his wife, Maggie, he and her were both molested as children. At the age of 18, the now-elderly Witherow was charged with statutory rape after getting his girlfriend pregnant. The judge later allowed them to marry.
"They've got issues, they've got hurts, they've got pains, they've got addiction problems," the pastor said. "Most of us have come from dysfunctional families; and so, Jesus is the one who sets the captives free."