Clinton VP Pick Tim Kaine Seeks Prayers at Church, Sings in Choir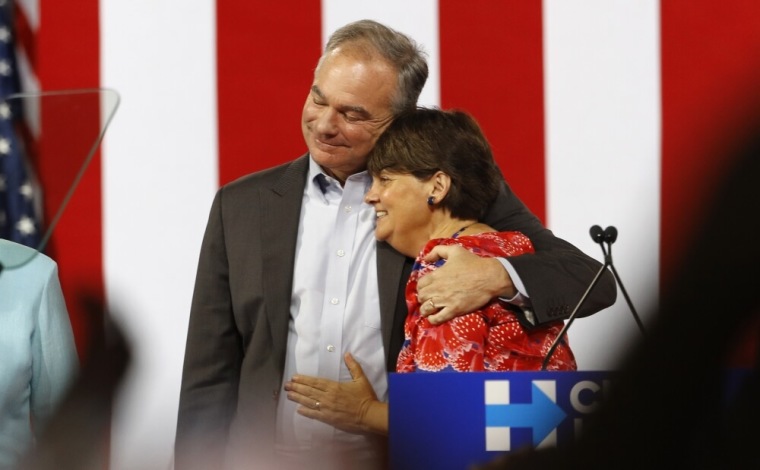 The day after appearing alongside Hillary Clinton as her running mate for the first time, Virginia Sen. Tim Kaine was in his Richmond Catholic church Sunday to seek prayers and also sang the Communion hymn. Kaine spoke to journalists after the service about his involvement in the mostly black church.
"You saw what a special community that is," Kaine, who was with his wife, Virginia Secretary of Education Anne Holton, at St. Elizabeth Catholic Church on Sunday, told reporters, according to ABC News. "We needed some prayers today and we got some prayers and we got support and it really feels good."
The former Virginia governor and Anne got married at the same church in November 1984.
"And this and our neighborhood are really the center of our lives here," said Kaine, a former missionary in rural Honduras.
Kaine, a former Richmond mayor, was asked to join the choir and sing a solo just hours before the service. He sang the hymn "Taste and See."
"Tim and I found our way to this parish almost by accident," Holton was quoted as saying. "But the fact that this parish has meant so much to us the last 33 years is no accident."
During the service, both Kaine and Holton were seen wiping away tears at various points, according to The Washington Post.
Holton was also asked to address the congregation. "This parish has meant so much. We are starting a new chapter now," she was quoted as saying. "We will really need your prayers."
Kaine talks frequently of how his faith informs his views on race and poverty and his deep embrace of cultural diversity.
After Kaine was officially announced as the Democratic VP pick, former Arkansas Gov. Mike Huckabee praised him for having a "real faith."
Speaking on Fox News, Huckabee recalled how Kaine had helped after the Hurricane Katrina in 2005.
When Kaine was the governor of Virginia, he was "part of a group that went down there and painted houses for the group from Habitat for Humanity," Huckabee said. "It wasn't just a photo op," and that's when Huckabee realized that Kaine is "a genuine guy."
"There's an authenticity about him," Huckabee continued. "That's good because there's not much authenticity about Hillary. So in many ways, he is the polar opposite of Hillary. He does actually believe what he says. He's not somebody who puts away his faith when it's inconvenient for him."
However, Huckabee also criticized Kaine for his pro-abortion votes. "Let's be clear, Tim Kaine is definitely a liberal. And even though he says he's personally against abortion, he still always governs with a pro-abortion vote," Huckabee said.