CNN Documents Manny Pacquiao, Human Rights Pioneer's Anti-Slavery Fight
Filipino Boxer and Cecilia Flores-Oebanda Featured in New Documentary 'The Fighters'
CNN Documents Manny Pacquiao, Human Rights Pioneer's Anti-Slavery Fight
The CNN Freedom Project has announced the premiere of "The Fighters," a documentary on the groundbreaking work of one of the world's most renowned anti-trafficking organizations and the help its founder received in combating modern-day slavery from boxing champ, Filipino congressman and outspoken Christian Manny Pacquiao.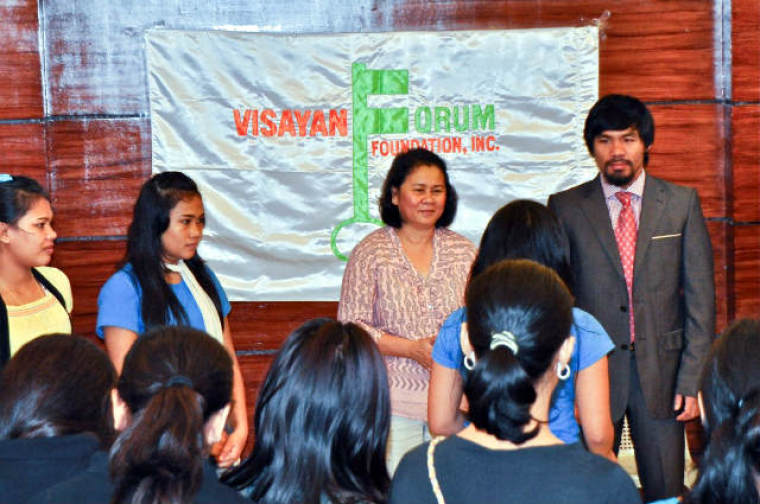 "The Fighters," airing for the first time this weekend on CNN International in a two-part series based on nearly two years of investigative reporting, provides an in-depth look at how Cecilia Flores-Oebanda and her Philippines-based anti-trafficking organization, the Visayan Forum Foundation, work unceasingly to get the message out that "Filipinos are not for sale." Joining her in the fight is the Philippines' own favorite son Manny "Pacman" Pacquiao, boxing champ and congressman of the country's Sarangani province.
In a riveting and provocative pre-screening of "The Fighters" shared with The Christian Post, CNN's Leif Coorlim informs viewers that many of the Philippines' more than 90 million residents, who are predominantly Roman Catholic, suffer from extreme poverty. A need for survival drives many Filipinos overseas with the hope of finding employment. Traffickers, looking to stuff their own pockets, sometimes pose as employment agents and trick women and children into sexual and bonded slavery.
If not victimized overseas in countries like the Middle East, Filipino women and children find themselves being bought for sex by Westerners on vacation or business trips at home.
"This is where many trafficking victims in Manilla often end up, on the streets or in areas where businessmen are known to unwind," program producer and narrator Coorlim tells viewers amid flashes of dark, blurry shots of the city's red light district (watch a video clip here). "Transactions between prostitutes and johns are done out in the open, even at popular cafes in Manilla's ritzy business district."
The Filipino government estimates that there are 800,000 people working in the illegal sex industry, with anywhere from 60,000 to 600,000 children caught up in the trade, according to the program.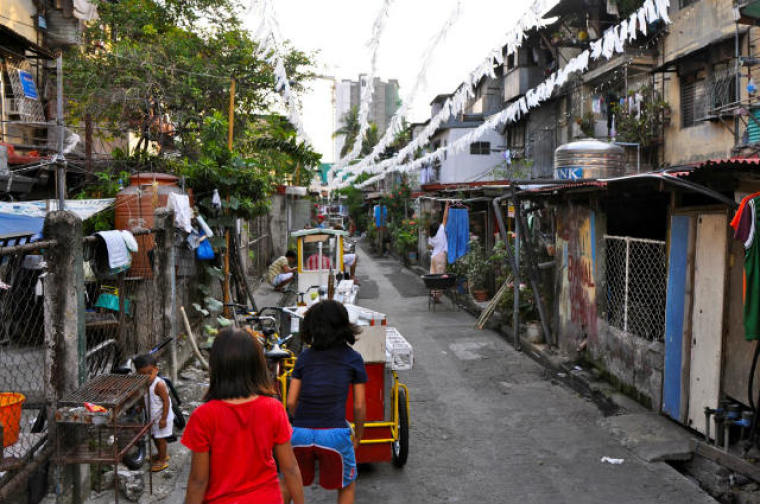 In addition to featuring heartrending interviews with rape victims, some of them as young as nine-years-old, the documentary takes viewers on rescues and raids carried out by Flores-Oebanda's anti-trafficking team and local law enforcement. One such bust resulted in dozens of young women who believed they had been promised legitimate employment overseas breaking down in tears upon learning that their employment agent was believed to be a madam facilitating their sale into slavery or forced prostitution.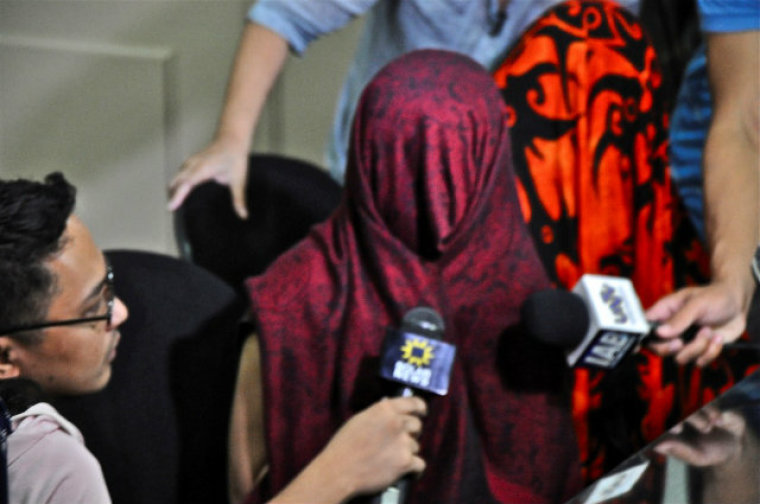 "The Fighter" takes an upbeat turn at the eventual introduction of Pacquiao, whose own background of extreme poverty compels him to act on behalf of those in need.
"If we're talking experience, my experience is deep and wide. That's one of the reasons why my heart goes out to help the poor," says Pacquiao in "The Fighter."
According to "The Fighters," Pacquiao's part in advocating against human trafficking mostly involves pushing legislative measures that would increase funding for related programs and, most off all, putting a popular face to the plight of modern-day slaves.
Flores-Oebanda, used to working tirelessly for years to help rescue victims of trafficking, welcomes the famed boxer's help, but cautions, "This may be the hardest or the toughest fight that he will wage in his entire life, because this fight goes beyond 12 rounds."
The Visayan Forum, an NGO founded by Flores-Oebanda in 1991, has been lauded worldwide for its commitment to defending and protecting vulnerable migrants, especially victims of human trafficking, with a notable record of saving more than 70,000 from the industry. The organization's groundbreaking work, however, was marred in 2012 when the USAID, the American organization that provides financial aid to foreign organizations, raided its offices on the premise of fraud and embezzlement. While the organization and its leader have yet to be officially charged with any crime, the mass publicized accusation, brought by a former employee of the Visayan Forum, may have already done damage. As "The Fighter" documents, after 20-plus years, Flores-Oebanda's work has been put in serious jeopardy, with the Visayan Forum weakened in its fight against human traffickers.
Exclusive Op-eds from the Presidential Campaigns
Although her NGO's efforts to end the horrible trade that affects 20-30 million people worldwide have been dramatically slowed due to USAID rescinding its funding, the documentary shows that Pacquiao has vowed to remain standing by Flores-Oebanda's side.
"It's good for our country and good for the community," the boxer and politician says when asked why he has provided the NGO and its boss with financial assistance and support. "She's like the mother of the nation because she protected the children, the kids and the people who get abused. A few years from now, [when I am] not in boxing any more, my fight is to continue to support Cecelia, the Visayan Forum and, of course, to stop human trafficking."
"The Fighters" airs in two parts this weekend, the first on Friday, May 17, followed by part two on Saturday, May 18. Broadcast times, as well as more information on the documentary, can be found at http://edition.cnn.com/ASIA/the-fighters.
The new feature is one of more than 300 stories generated by The CNN Freedom Project, which highlights cases of modern-day slavery around the world.
Watch a preview of "The Fighter" below: