Coach Dies in Freak Accident: High School Coach Impaled on Gate (VIDEO)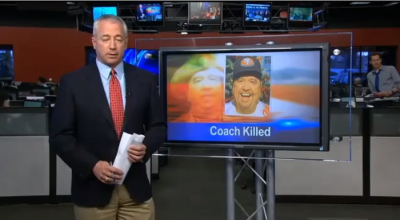 A high school coach has died in a freak accident that has stunned local communities in California, after the popular teacher crashed his bicycle and was impaled on top of a school gate.
Marion Adams, Rio Linda High School's multimedia teacher and track and field coach, was reportedly impaled by a parking lot gate while riding his bicycle in what has been described as a "freak accident."
News of the death has sparked an outpouring of mourning and prayers for his family from the local school community and authorities.
The tragic accident took place on Monday night when the coach was heading home from a practice, according to the Sacramento Bee.
As he was riding his bike Adams turned around to say goodbye to a student. The farewell caused him to be distracted for just a moment, but in that moment he accidentally slammed his bike into a metal gate, impaling him and injuring critically.
The high school coach was given two surgeries to treat his internal wounds, however despite those surgeries going well he succumbed to his injuries and died early Tuesday,
Mike Morris, the school's varsity football team coach and athletic director, told the Sacramento Bee, "Marion was the most popular and nicest man on campus; just a great guy."
He added, "It's a huge loss, devastating to our community."
At a vigil held in his honor on Tuesday night, hundreds of mourners attended and paid their respects to the much loved teacher.
Adams is survived by his wife Kathy, his children Joe and Sarah, as well as his two grandchildren. He also leaves behind his mother, Edith, and seven siblings: David, Steve, Janice, Caroline, Betty, Lorraine and Mark.
Here is a video news report into the tragic incident of Marion Adams' death: