Colorado Springs Churches, Christians Deliver Relief During 'Apocalyptic' Fire
Pastor Brady Boyd of New Life Church in Colorado Springs, Colo., stared out the window of his office and saw a firestorm of epic proportions raging down the mountains on the other side of I-25 on Tuesday.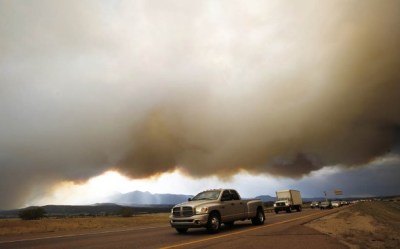 "It was apocalyptic when that fire started coming down the hill. The whole side of the mountain was on fire. It was unbelievable. I never witnessed anything like it in my life. It was a perfect storm for the fire," Boyd told The Christian Post Wednesday morning.
The five-day-old Waldo Canyon Fire became a monster on Tuesday when high heat, low humidity, and 60-mile-per hour winds were too much for firefighters. The fire jumped two fire breaks and began to destroy more than 100 homes and led officials to evacuate 32,000 people from the area, it was reported by officials on Wednesday.
In the midst of a fire described in historic and sometimes biblical terms, Christians from local churches, including New Life Church, began providing every need imaginable to people who were evacuating and traumatized, Boyd said.
"What I love about our church is that I did not have to tell anyone, anything or organize [a response]. They responded without me even saying anything," he said. "They took people into their homes. They took food down to the food banks. There were people that were moving horses, livestock out of danger, they've volunteered all that.
"We don't wish for these kinds of tragedies, but in these kinds of times this is the church's finest hour. This is when the church can be the church. Our people from across the city are responding."
New Life as well as the close-by Focus on the Family campus are reported to be out of danger from the fire, both located on the east side of the I-25 highway that splits Colorado Springs geographically as it traverses north and south.
Evangelical Press Association President Dean Ridings, who is the editorial director of online publishing for Focus on the Family, gave an update on the Waldo Canyon Fire situation Wednesday.
"In this community that has seen so much division through the years, there's a strong sense of unity that 'we're all in this together,'" Ridings said in an e-mail newsletter to EPA members. "From what I'm hearing, Christians in town are doing a wonderful job of living out Matthew 5:16, letting their lights so shine that others would see their good works – gifts of money and food, homes and churches as shelters – and glorifying God."
Christian author and apologist Lee Strobel, who lives 40 miles north of the wildfires, told CP that he felt the best way he could help in the midst of the unfolding disaster was to use the social media power of Twitter "to get people praying around the world."
On Tuesday evening, Strobel tweeted, "Pls keep praying for Colo Springs. Wildfire situation dire. Homes ablaze." On Wednesday morning, he posted on Twitter, "At least 100 homes, likely more, burned so far in Colo Springs wildfire. Please keep praying today for those who are hurting."
Strobel's social media effort was a success by his account.
"I had an amazing response, with lots of people offering their prayers for safety, for rain, for the firefighters, for the evacuees, etc. As James says, the prayers of righteous people are powerful and effective. And by God's grace, there were no injuries or deaths reported – and rain is forecast for today," he said.
Strobel, like other Christian leaders tracking the disaster, noted that Christians in Colorado Springs are "serving people in every way possible."
"As painful as it is to lose a home, it's more important that people remain safe. This is a resilient community that will rebuild, and the Church will be in the forefront of that effort," he said.
Boyd said he is proud of his congregation and the local churches for their efforts during the tragedy.
"They already have made up their minds to serve at times like this. I love that and it's the mark of being a disciple in my opinion," he explained. "It's a beautiful opportunity to be Jesus with our hands and our feet in a city."
READ: FOCUS ON THE FAMILY PRESIDENT DISCUSSES COLORADO FIRES
Pastor Brady Boyd - Healing At The Gates