Conservative Anglican Leaders Ready for 'Nuclear Option' as Church of England Softens on Homosexuality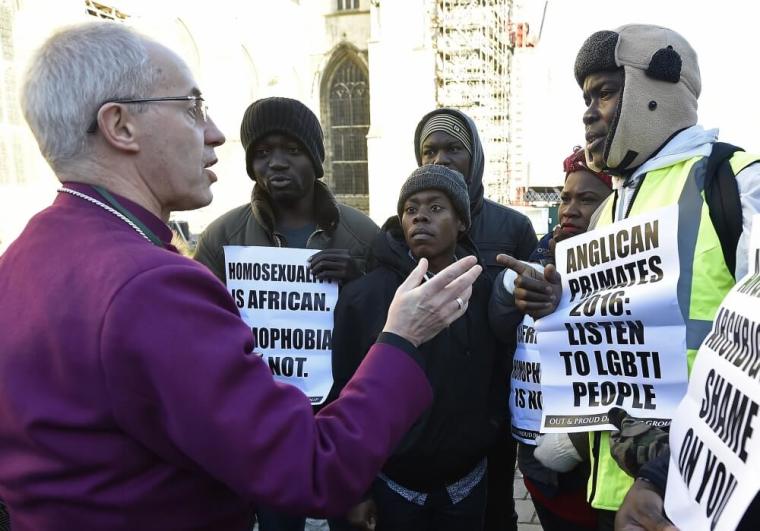 Conservative African and Asian Anglican church leaders are reportedly ready to put forth their own bishop in the Church of England in defiance of Archbishop of Canterbury Justin Welby, who they believe is softening on gay marriage.
According to The Mail, conservative bishops believe the CofE is becoming too liberal on the subject of homosexuality, and are threatening to take the "nuclear option" when it comes to electing their own bishop in the U.K.
The article cited "insiders" who revealed that the matter will be decided at a meeting in Africa, which would represent a direct challenge to Welby's authority as nominal head of Anglicans worldwide.
While Welby has maintained that he continues to back the traditional definition of marriage, which is between one man and one woman, he has made several statements suggesting support for gay couples in recent years.
He told BBC News in March 2013 that he sees "stunning quality" in some gay relationships.
He added that he has "particular friends where I recognize that and am deeply challenged by it," referring to the strength of their gay relationship.
The Archbishop of Nigeria, Nicholas Okoh, who chairs the Global Anglican Future Conference of conservative archbishops, slammed a number of other similar statements from Welby, claiming that they are "distressing" and "downgrade the historic and biblical mind of the Church."
Other Anglican branches, such as the liberal Scottish Episcopal Church, are also moving toward approving full-scale gay marriage, following in the footsteps of the Episcopal Church in the United States, which received a temporary suspension from the Anglican Communion over its embrace of gay marriage.
Barry Morgan, the former Archbishop of Wales, declared his support for gay couples in his final address in September 2016, claiming that there is a way to interpret committed gay relationships as being acceptable in the eyes of God.
Morgan, who was the longest serving archbishop in the worldwide Anglican Communion, argued that those who support gay marriage are not "abandoning" the Bible, and said that they are trying to interpret the life and ministry of Jesus and His message of inclusion.
Morgan's comments, however, where challenged by conservatives, such as Archdeacon of Cardigan William Strange, who argued that treating the Bible as a whole convinces him "and most other Christians in the world" that the Gospel "from start to finish tells a story in which sexual relationships are only rightly expressed between a man and a woman within marriage."
Although GAFCON's plan of action is not yet confirmed, insiders say that the meeting in Lagos, Nigeria, could result in the consecration of a new conservative bishop for Anglicans in the U.K. who would preach to them there, and go against Welby's authority.
"I would say there is now a 75 percent probability of the GAFCON archbishops voting to consecrate a new bishop for the U.K.," the source said.