Conservatives to GOP: Don't 'Play Defense' on Social Issues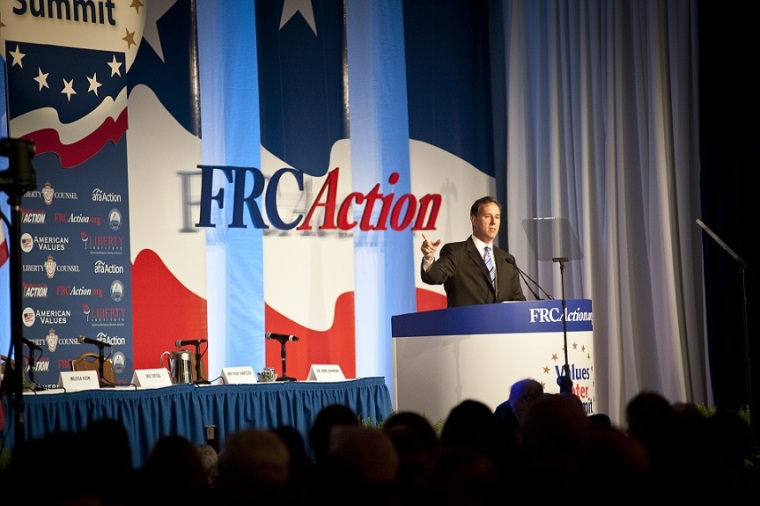 WASHINGTON – The Republican Party should not abandon social issues on the campaign trail, conservatives at the Values Voter Summit argued.
Rick Santorum, former Republican U.S. senator from Pennsylvania, spoke to a large crowd at the Regency Ballroom of the Omni Shoreham Hotel on Friday afternoon.
The former Republican presidential primary candidate told those gathered at the conservative summit that the GOP should not "play defense" on social issues like abortion and gay marriage.
"I've never been involved in a race where we play defense on an issue and we put points on the board. But that's what we decided to do as an establishment Republican Party is to simply play defense," said Santorum.
"To ignore this, put our heads in the sand and hope that these issues would go away."
Santorum also said that social conservatives need to fight in the schools, in politics, and in their own family for their worldview.
Since the 2012 presidential election, debate has existed within the Republican Party about whether or not to eject the social issues from their platform.
Some analysts and commentators have argued that the Republican Party's conservative stance on issues like abortion and gay marriage are costing the GOP elections.
While many Republican leaders have denied that such changes will be made to the party platform, some have argued that they are not making an effort to argue for those positions.
Brian Brown, president of the National Organization for Marriage, made a similar point as Santorum in his VVS speech. Traditional marriage advocates were not to blame for the 2012 election results, he claimed.
"There are some in the media and in the Republican Party who think it would be a good idea to" get rid of "social conservatism," said Brown.
"The simple truth is that … It's not our fault," added Brown, who noted how little promotion of the social issues the GOP did in 2012.