Coptic Christian Refugees Speak Out About Egypt Persecution to Glenn Beck
"Please, Obama, don't support the Muslim Brotherhood because they are like terrorists. They kill Christians all over the world, not only in Egypt," Says Egypt Refugee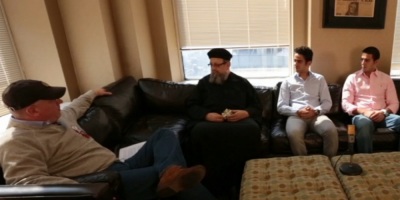 A group of Egyptian Coptic Christian refugees have warned that their country is "getting closer" to 1930's Germany in a recent interview with conservative political commentator, Glenn Beck.
Coptic Christian priest Father Anthony Hanna, who immigrated to the United States with his wife and two sons earlier this summer, warned that the persecution facing his people was only intensifying.
Copts, who have lived in Egypt for thousands of years, only make up 10 percent of its population. While tension existed between them and the country's Arab Muslim population under former president Hosni Mubarak, violence has increased since he was overthrown in 2011. Most recently, Muslim Brotherhood supporters have used Christians as scapegoats, blaming and violently attacking them for the removal of president Mohammed Morsi in June.
In July, Dalga, a town in the southern Egyptian province of Minya was overtaken by Islamists for two months, forcing hundreds of Christians to flee the city. In August, pro-Morsi protests turned into anti-Christian programs when over 70 churches were attacked, burned and destroyed and four people were killed. In the midst of the violence, Egyptian security reportedly stranded Christians, at times standing by while attacks were occurring or showing up hours after crimes had been reported.
Hanna pleaded to the American embassy to do more to protect Coptic Christians, insisting that it refuse to allow any more Christians to "get tortured, get killed" by allowing more of them to leave the country.
In Egypt, Mina Shoukry Abdelmaeseh said that his mother was often spat on and subjected to insults when she was out in public. His younger brother Mark was told he would have to convert to Islam to play on the national soccer team.
Hanna said that he believed that most people in his new home had no idea what it was like "to be treated like a second class in your own country."
"People in America really don't understand the concept of persecution," he said.
Mina begged the Obama administration to not support the Muslim Brotherhood and claimed that the army treated Egyptians better.
"Please, Obama, don't support the Muslim Brotherhood because they are like terrorists. They kill Christians all over the world, not only in Egypt,....Nowadays, the Egyptian army support people in Egypt," he said.