Coptic Priest Murdered in Brutal Stabbing by ISIS Jihadi in Cairo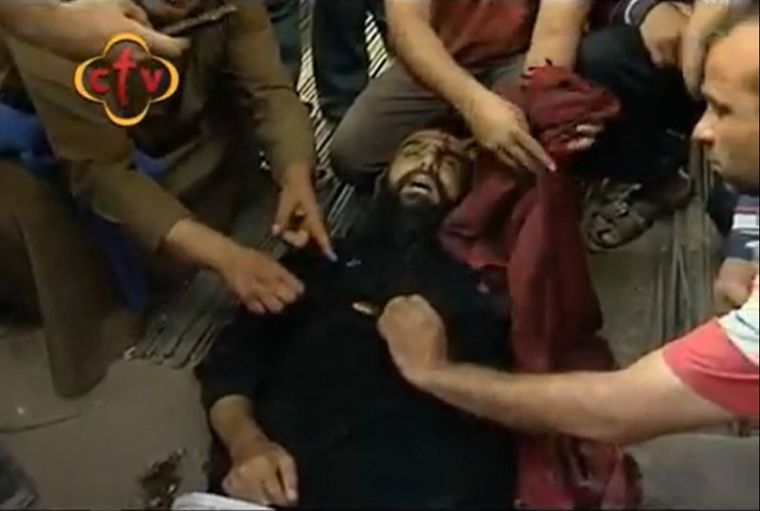 A Coptic Christian priest was stabbed to death Thursday by a suspected member of the Islamic State terror group in Cairo's northeastern suburb of El–Marg. A video of the murder was posted online.
Egypt Independent reported that the priest, Samaan Shehta, was attacked by a "young unemployed man" in front of his vehicle and was then hit in the head with a cleaver before the assailant ran away.
"It is believed that it is a hate crime that has been executed by an extremist affiliated to IS or Salafism," a local journalist said.
A video of the attack was posted on Facebook, and shows citizens attempting to aid the wounded priest on the ground.
Another priest who was with Shehta, identified as Benjamin Moftah, was also assaulted, though his condition has not yet been revealed.
The General Bishop of the Coptic Orthodox Church in the U.K., Bishop Anba Angaelos, expressed his anger at the incident, saying, "Another day in Egypt with another Coptic Christian murdered."
Angaelos said Shehta was in Cairo collecting humanitarian aid for those most needy in his parish when he was "brutally killed" by the suspect.
"This incident makes us once again ask so many questions. Why should a priest not be able to walk safely down a street, especially a suburban street in Cairo? Why should he be chased by a man brandishing a deadly weapon and have no one run to his aid; in actual fact, everyone was running away," he wrote in his statement.
The bishop questioned why it took an ambulance over an hour to arrive and treat him, and accused police of failing to secure the crime scene so that forensic evidence can be collected.
"After the initial shock and the immense sadness, today is a day that brings anger and I am not apologetic for that anger. I would be just as angry if this was any other person being dealt with in this way, in any other part of Egypt or indeed any other part of the world. Yet he is a Christian, a Coptic Christian, and a Coptic priest, which makes it all the more close and all the more painful," Angaelos continued.
He said that Coptic Christians, who are a minority in Egypt, continue suffering greatly at the hands of IS and other radicals, in the form of "child kidnapping, forced conversion, individual targeting, bus attacks and church bombings."
"While recognizing that anger may often open a path to hatred or resentment, there are times at which it is a natural expression of a human emotion, and reaction to a sense of deep injustice. I am sure that I am not alone in my anger, but that it is shared by every law-abiding person of any belief and indeed of none, who has witnessed this vicious and inhumane attack," Angaelos wrote, vowing to continue praying.
The Coptic community has been upset at the Egyptian government's lack of support and protection, with a report from September even accusing authorities of aiding networks of abductors who get paid by Islamic extremists to kidnap Christian girls.
A former Muslim man known only by the letter "G" told World Watch Monitor at the time that kidnappers receive "large amounts of money" from "Islamization organizations" for  kidnapping girls who are often converted to Islam and married off to Muslim men.
The Egyptian government, however, has successfully prosecuted some jihadists who've slaughtered Christians, with a court handing down death sentences last month to seven people linked to IS for their role in beheading 21 Copts in Libya in 2015.