'Creed II': Michael B. Jordan shares how spirituality helps him when life knocks him down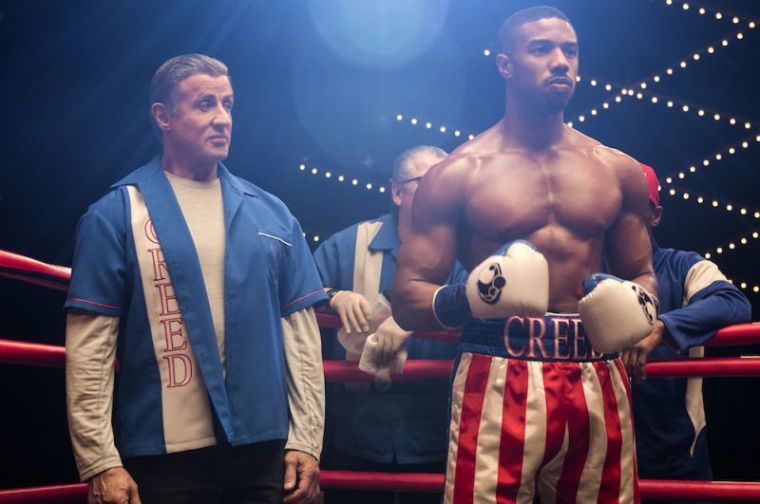 PHILADELPHIA — "Creed II" hits theaters on Nov. 21 and in a recent interview, lead actor, Michael B. Jordan revealed that his faith keeps him going when life knocks him down.
Last weekend, CP was invited to sit down with the cast of "Creed II" back in Philadelphia, Pennsylvania, where the movie was filmed.
The new installment once again brings the story of beloved fictional boxer Rocky Balboa (Sylvester Stallone) and his mentee Adonis Creed (Jordan) to the big screen. Like Stallone, Jordan grew up attending church and says he still draws on his spiritually when life knocks him down.
Throughout the film, his character, Creed, refuses to stay down despite taking a beating both in and out of the ring. When asked what helps him rise again, Jordan first credited his family, then his faith.
"I have a really strong support system around me, family, friends that are like family," Jordan told The Christian Post.
"I meditate a lot, spirituality is as big with me. It's a big deal. It's kind of what keeps me centered a lot of the times, so that's definitely an aspect of my life that helps me push through certain hard times."
Jordan has said in the past that he grew up in church and has always believed in God. Ultimately, the actor said his determination helps him to never give up.
"In 1985, Russian boxer Ivan Drago killed former U.S. champion Apollo Creed in a tragic match that stunned the world. Against the wishes of trainer Rocky Balboa, Apollo's son and current champ Adonis Creed accepts a challenge from Drago's son — another dangerous fighter. Under guidance from Rocky, Adonis trains for the showdown of his life," the synopsis of "Creed II" reads.
"Creed II" is filled with Rocky quotes, in keeping with all the heartfelt statements always shared throughout the Rocky franchise. Jordan called these sayings "Rockyisms" and went on to share which one impacted him the most.
"'It's not how hard you get hit, its how hard you can get hit and keep moving forward.' That's always a quote that I really liked from our films," the young movie star shared.
He added, "It's how much can you take, how much can you endure, how long can you last until you get to where you need to get to? A lot of people quit right before things are about to open up for them. They're right there, right on the brink of getting everything you want and then they end up just stopping, just short of it. Not knowing if they would have took a couple more steps forward they would have gotten everything they wanted. So that's something that always resonates with me."
After the success of his films "Creed" and "Black Panther," the California native has garnered a large following. When asked to share advice for the next generation, Jordan acknowledged the hardships currently taking place throughout the world and said staying focused is key.
"Life is tough right now. You got to be able to take ownership over the things you can control," he said. "I think [for] young people nowadays is like trying to get them focused. The cliche thing is, stay in school and get an education, listen to your parents, those are the kind of the foundations right now."
Jordan is no stranger to humanitarian work and says everyone can do fruitful work in the world.
"I think using your voice in a productive way, in a positive way is really important," he emphasized. "I think finding out who you really are is crucial as well. Finding your center, sit still, and meditate, listen to the things that comes."
His co-star, Tessa Thompson, also really believes in the value of using one's voice, talents and gifts to better the world and encouraged people to fight.
"Something central in this film is 'what you fight for' and there's a lot to fight for right now," Thompson told CP. "Whether it be for our own rights in this country and globally and for the rights of folks in communities that maybe we are not a part of but we happen to have a connection to, that injustice in any realm is injustice to all of us."
"I know when you read the news it can be really harrowing and depressing but also inside of it there are so many victories," she encouraged.
"When the pendulum swings in a negative space, it swings right back again into a positive space and I think that has a lot to do with people staying engaged, active and fighting."
"Creed II" features Jordan, Thompson, Stallone, Phylicia Rashad, Florian Munteanu and Dolph Lundgren. The soul-stirring sequel was written by Stallone and produced by Irwin Winkler, Charles Winkler, William Chartoff, David Winkler, Kevin King-Templeton as well as Stallone.
For more information on the MGM, Warner Bros. Pictures release, visit creedthemovie.com.