Creflo Dollar Says Myles Munroe Came to Him in a Dream Three Days After He Died and He Was Leading His Own Funeral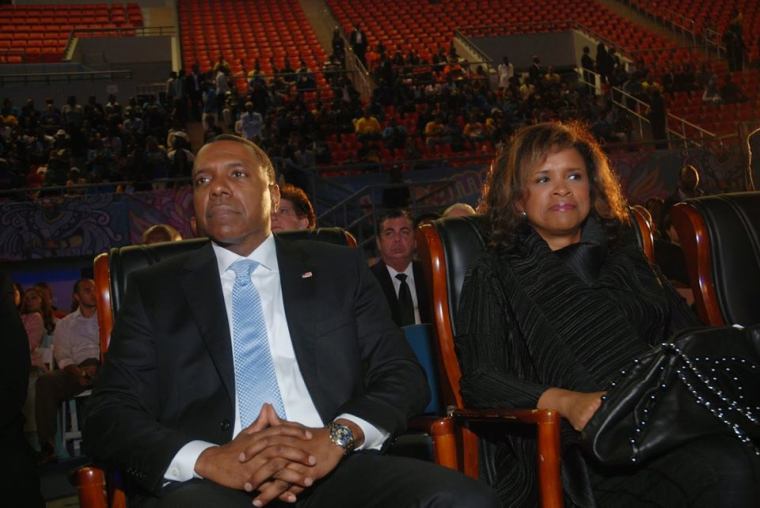 Popular televangelist and founder of World Changers Church International, Creflo Dollar, revealed at a national memorial service for renowned pastor and motivational speaker Myles Munroe and his wife, Ruth, in the Bahamas that the revered preacher appeared to him in a dream three days after the deadly crash that killed the beloved couple and seven others last month.
In a YouTube clip of his address at the service last Wednesday, Dollar, who attended with his wife, Taffi, remembered Munroe and his wife as exemplary leaders, and said in his dream Munroe was leading his own homegoing service.
"A general in the body of Christ, Myles Munroe and his beautiful wife, Ruth, they did an outstanding job as leaders in the body of Christ and they will be greatly missed," Dollar explained in the run-up to his dream story.
"I hesitate to tell you, and I was going back and forth vacillating whether or not I would even share this, but three days after the incident (crash), I had a dream, and Myles was in the dream, and a bunch of ministers were here in the Bahamas and he was taking us upstairs and through the church, and he was telling us where to sit down and he was telling us what was gonna happen," said Dollar.
"And I said 'what are you doing?' and he said, 'this is a homegoing celebration' and I said, 'wait a minute. You're leading your own homegoing celebration?' And then he sat us down — and I had forgotten that he was a musician — and he sat down at the piano and he started playing and said: 'Now I'm gonna really show you how this ought to be done.' And I woke up like, man, Myles even leading me in my dreams, he's a leader everywhere I go," continued Dollar as the mourners clapped.
"He was such a blessing in my life. We would bump into one another around the world in the Ukraine, in London, and every time he would share pictures of all of his journeys with leaders and prime ministers and presidents around the world. And we would get to talking about the latest revelation that God had revealed to each of us and we were like two teenage boys shouting and thanking God for the revelation," Dollar further recalled.
"I really missed him 'cause I hadn't seen him in a while; and I wanted to sit down and talk to him about this message of grace, and let him pick it apart and tear it up and put it back together again and then we'll just shout over it. And now I know that you cannot take life for granted it is a precious thing," he said.
Watch Creflo Dollar's full speech below: