Dallas Megachurch Pastors Robert Jeffress and Frederick Haynes III at Odds on 'Christian' Response to Border Crisis, Immigrant Children (VIDEO)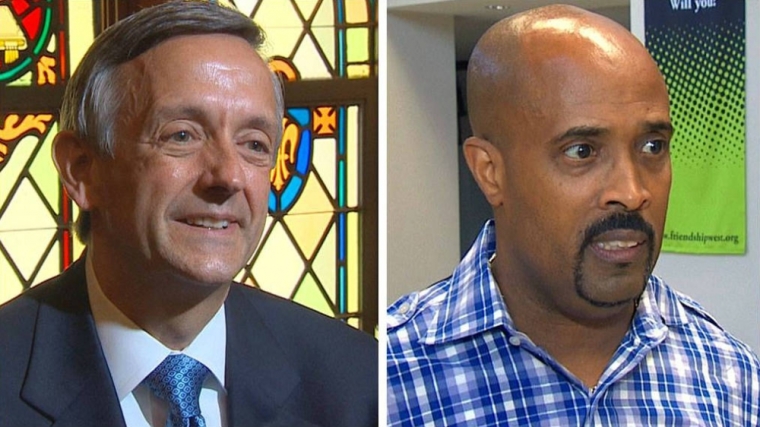 Two influential pastors in Dallas, Texas, are at odds on what they both believe the appropriate Christian response should be to the recently-publicized border crisis involving children entering the United States illegally and unaccompanied.
The unprecedented influx of young children and teens trying to illegally enter the United State along the country's southwestern border has "triggered a political and humanitarian crisis," according to NBC News.
According to Robert Jeffress, pastor of First Baptist Dallas, the most compassionate thing the U.S. government can do to address the border crisis, heightened by the influx of unaccompanied alien children, is to secure the country's border with a fence.
Jeffress made his remarks last week during an appearance on "Fox & Friends," and also spoke to Christians watching the program and possibly wondering "what the right thing to do is."
"Yes, Jesus loved children but he also respected law," said Jeffress. "He said render unto Caesar the things that are Caesar's. So we need to do both. Show compassion, but secure the borders." The Southern Baptist pastor emphasized that the U.S. should show compassion to the children that "are already here."
At the start of the interview, a host of the program told Jeffress: "Some have said that you're cold and callous and un-Christian if you think these kids need to go back where they came from."
Frederick Haynes III, senior pastor of Friendship-West Baptist Church, is among Jeffress' critics. In a sermon delivered over the weekend, Haynes reportedly lashed out at his colleague, describing Jeffress' response on "Fox & Friends" as "fear-mongering."
"We can't allow fear-mongering to get in the way of the truth," Haynes told his congregation on Sunday. "'Reverend Downtown' says turn them back. I don't know what Jesus you know. ... I don't know what Jesus you know."
A video excerpt of Haynes' remarks previously published on YouTube by Friendship-West Baptist Church, labeled "Our Stance on the 'Border Crisis,'" has since been removed from the video sharing website.
Local news station WFAA-TV acquired a copy of the YouTube video of Haynes' remarks before the clip was removed, and included it in its video report.
While the WFFA-TV report suggests the pastors' disagreement was centered on Romans 13's call for Christians to be law-abiding, Jeffress in his interview with the TV station noted Acts 17:26.
"[The passage says] God is the one who has established the nation and its borders," said Jeffress.
As for Haynes, he suggested Jeffress was quoting scripture out of context. He added, "There's no way, I think, you can look as a faith leader, in the eyes of children, and your only response is, you know, 'Let's build a fence and let's send you back."
Several faith groups, in the meantime, have been working along the U.S. border to assist unaccompanied immigrant children, with churches and charities located in border states sheltering some of these children while officials wait to reunite them with family members in the U.S. or back home.
Jeffress, a regular Fox News contributor who makes frequent media appearances, pastors 11,000 members at First Baptist Dallas. Haynes, who "(believes) in the urgency of now, marrying theology with a call to impact our sociological issues," leads 12,000 at Friendship-West Baptist Church.
Watch the WFAA-TV report below, or read the report at the news station's website: http://www.wfaa.com/news/special/border/Leaders-of-two-Dallas-churches-differ-on-border-crisis-views-267084821.html.