David Jeremiah Draws Thousands to NYC for 'Night of Celebration' Marking Release of 'Jeremiah Study Bible'
Donald Trump, Kari Jobe, MercyMe Among Guests at Madison Square Garden Thursday Night
NEW YORK — Dr. David Jeremiah's fans and friends turned out Thursday night at New York City's Madison Square Garden to help the California pastor celebrate the release of his Jeremiah Study Bible, the culmination of his 40-plus years in ministry. Joining special guests like NYC's own Donald Trump were out of town church groups, local couples and even a few teens who weren't too shy to tell CP what impressed them most about the show — Kari Jobe and MercyMe.
"A Night of Celebration with David Jeremiah & Friends," organized by the Southern Baptist preacher's Turning Point Ministries, packed the 5,500-capacity theater that frequently hosts pop stars like Robin Thicke and will this weekend draw some of Dr. Jeremiah's crowd back for six-time Grammy-winner TobyMac.
But Thursday night was all about celebrating the Bible, God, and Dr. Jeremiah's ministry.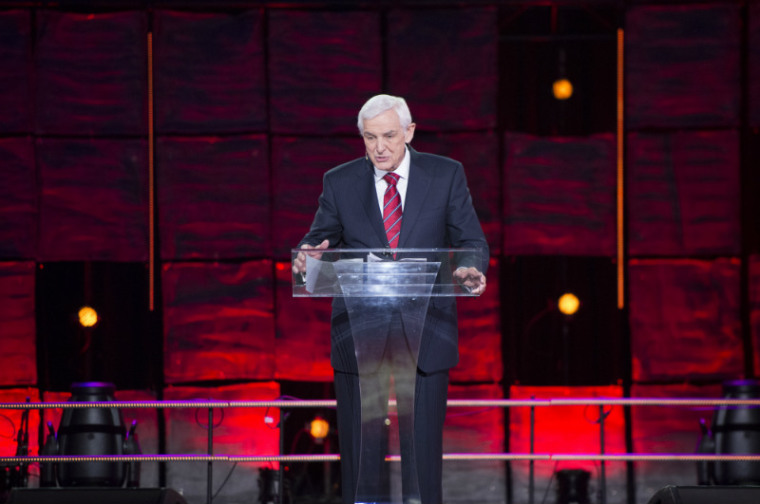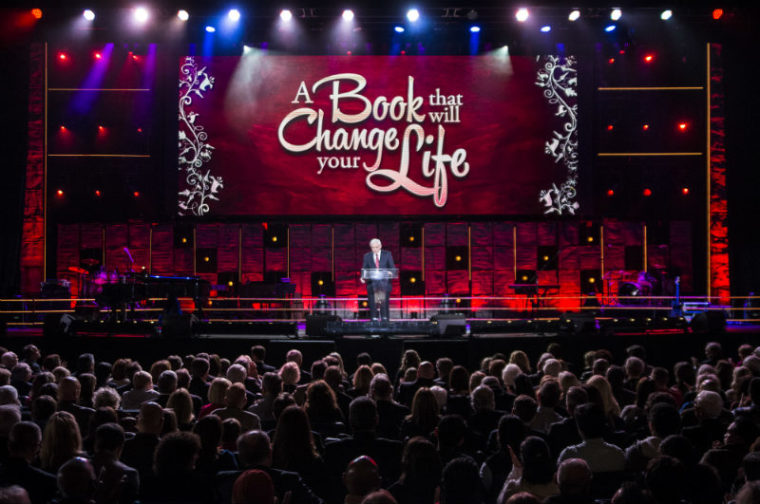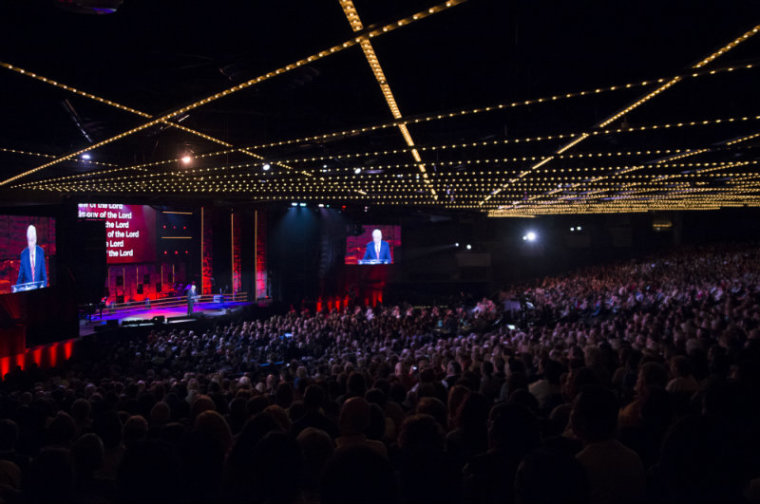 View Photos
"Tonight, we are celebrating the completion and publication of the Jeremiah Study Bible. This is the culmination of a lifetime of teaching and studying the Word of God," Dr. Jeremiah, 72, told his family, friends and ministry supporters. "Over these many years I have watched this book and the savior it presents permanently change the lives of people. And it is my prayer that the study Bible introduced on this night, will encourage you to make the study of God's Word a priority in your life."
"It will always be the most influential book in the world because its message originated with God and it resolves the most pressing human need, which is how to know God and be reconciled to Him," he added. "So may the words of this book, the Bible fill your memory, rule your heart, guide your feet. Read it slowly and frequently and prayerfully. It is a mine of wealth, a paradise of glory, a river of pleasure. It is given to you in this life and it will be opened some day at the judgement and remembered forever more."
The Jeremiah Study Bible: What It Says. What It Means. What It Means for You (Worthy Publishing) is in the New King James Version and includes over 8,000 study notes, hundreds of sidebars and more than 60 articles on "Essentials of the Christian Faith."
On hand to help the Shadow Mountain Community Church pastor mark the release of the JSB were Marshall Hall, Gordon Mote, The Brooklyn Tabernacle Singers, whose choir performed at President Barack Obama's second inauguration, Kari Jobe, and MercyMe.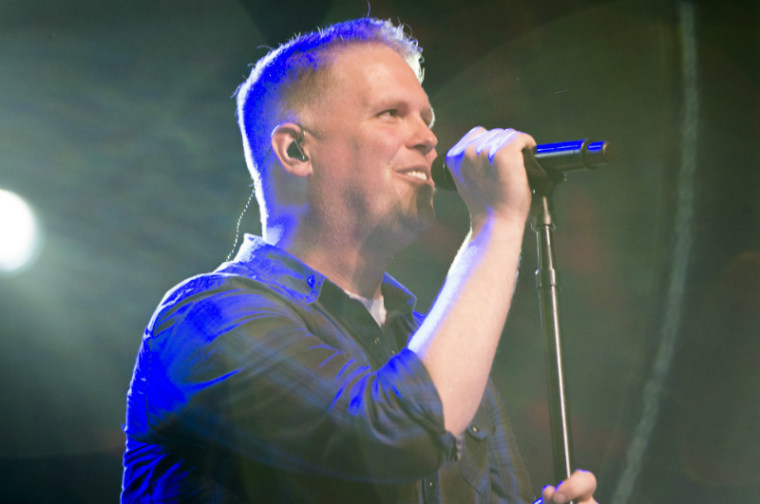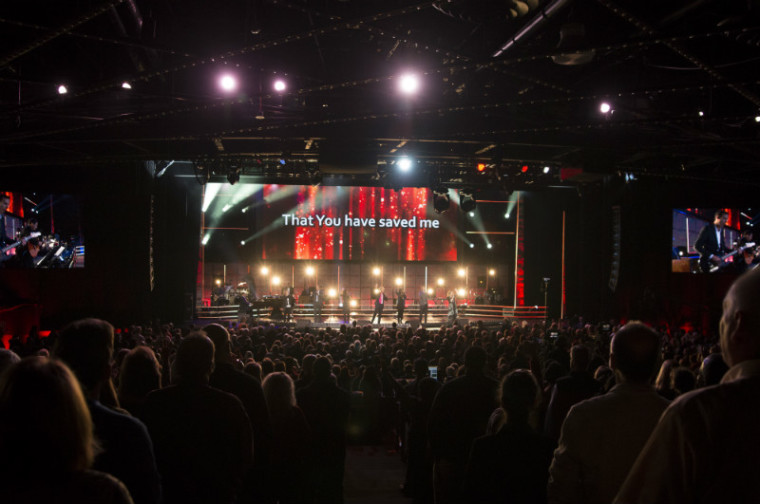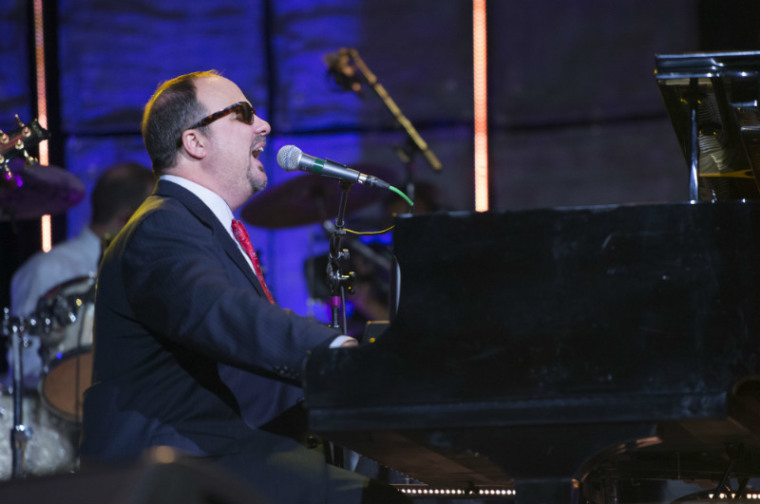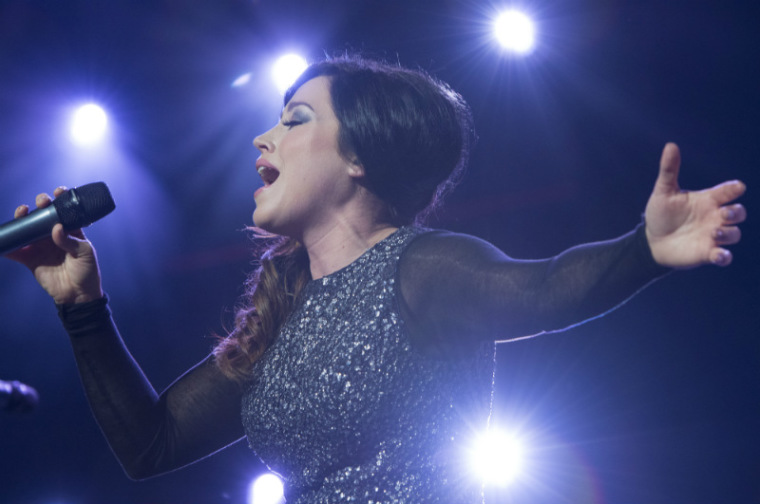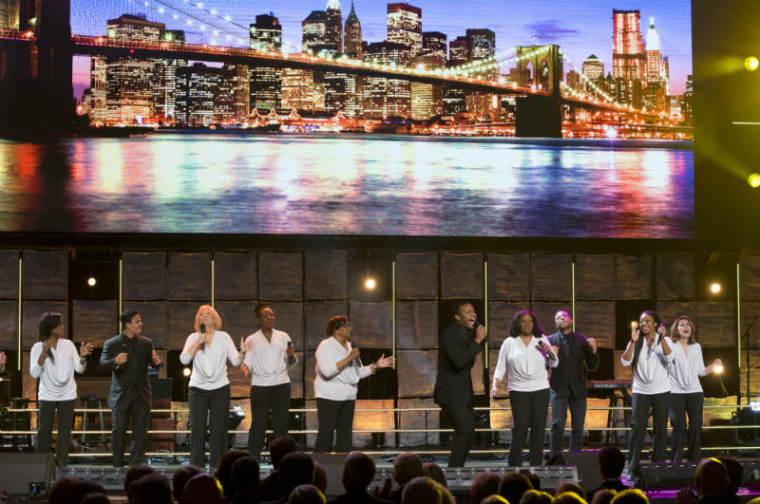 View Photos
MercyMe brought the crowd to its feet with a rousing set that culminated with their classic "I Can Only Imagine," while Kari Jobe, the highlight of the night for a few locals, also moved attendees with her popular rendition of Jennie Lee Riddle's "Revelation Song."
After the celebration, attendees streamed into the MSG Theater lobby to snap up copies of the Jeremiah Study Bible, some of whom received copies for free depending on their ticket purchase.
One NYC man, Paul Dileo, who came with his wife Corrina from Bayside, Queens, plunked down $60 for his copy of the JSB, although he said he was "just getting to know" Dr. Jeremiah. "I'm going to go home and study a little bit more about the Word of God," he told CP. When asked for his general impression of the night, Dileo deferred to his wife who had no shortage of words to describe her experience.
"We just had an awesome time. Just crying with joy, and singing and dancing," Mrs. Dileo told CP. "It was such a beautiful experience seeing everybody worshipping God and just all the love that was flowing and the energy in the room, amazing, just amazing. I'm so uplifted. I feel so good in my heart, I really do."
The Rev. Kwame Taylor of Friendship Baptist Church came about an hour away from Garfield, N.J., along with his pastor and an associate minister.
"To be honest with you, I wanted to get a signed Jeremiah Study Bible, so I came for that," said Taylor. "He's a great teacher, so I just came to experience it and it's been awesome."
Although the worship music wasn't exactly what he was used to, Taylor said he still found MercyMe to be "awesome" and thought Kari Jobe "was phenomenal."
The sentiment was shared by a group of young people from Queens who were wrangled to the night's event by their parents but managed to walk away from it inspired.
"I thought it was amazing, very enriching," said an articulate Denise, 15. She added that her favorite part of the night was Kari Jobe's performance.
"I came here because my parents forced me," Rubin, 15, confessed. "And it inspired me to rediscover the Bible..."
Camila, 12, said the celebration "was really powerful and you could feel the love inside (the theater). It was very interesting, too, Dr. David Jeremiah's stories."
Verald, 12, said he had no regrets about being forced by his parents to come. "The performance, the concert, it was really good," he told CP.
The Rev. Kenneth Simms of New Hope Baptist Church drove down with his wife, Sharen Simms and husband-and-wife parishioners Phillip and Carmen Wornum from Boston, Mass.
The group said the four-hour drive was well worth it.
"We thought the David Jeremiah Bible project was an excellent project," said the Rev. Simms. "We listen to him on radio and television and we traveled here just to be a part of this experience."
Mrs. Simms said the night's event was "awesome" and she was glad Dr. Jeremiah had finally come their way. The biggest takeaway for her, however, was being inspired more about studying the Bible.
"That's what I get from Dr. Jeremiah, is his love for the Word and it makes me want to study even more," she said.
"It was inspiring, I really love it," added Carmen Wornum, who said she has been following Turning Point Ministries for about three years. "It's my first event of Dr. David Jeremiah's. I've listened to his radio ministry, watched him on television, but to see him actually live and in person, it was really...words just cannot express how I feel tonight."
What stuck with her the most was a quote Jeremiah shared during the event he said had encouraged him throughout his ministry.
"God's man in the center of God's will is immortal until God is through with him," Mrs. Wornum related, adding her interpretation:
"We should continue to work for God and when He calls us home that's when our work is complete. But until then, everyday is a day of thanksgiving and a day that we should continue to work and inspire others in Jesus Christ."
When asked for one word to sum up the night's events, Mr. Wornum said, "Inspiring" and added another: "Powerfully inspiring."
Dr. Jeremiah, senior pastor of Shadow Mountain Community Church in San Diego, Calif., has been in ministry since 1969 and founded Turning Point Ministries in 1982. Through his radio and television broadcasts he reaches an estimated 200 million households around the world every week.
The "Night of Celebration in NYC with David Jeremiah & Friends" held Dec. 5 at NYC's Madison Square Garden was scheduled to air on television in two parts on Jan. 5 and 12. Visist www.davidjeremiah.org for more details.