Demi Moore and Estranged Daughters' Prolonged Split Leaves Actress 'Devastated'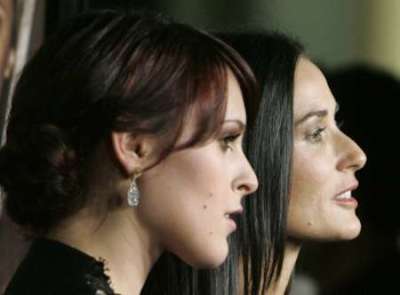 Actress Demi Moore has been having problems with her family after reports that her three daughters have cut her out of their lives. The actress has been struggling ever since her divorce from Ashton Kutcher in November.
"Rumer, Scout and Tallulah just don't want to deal with the drama at the moment," a source told Radar Online. The three girls are Moore's by ex-husband Bruce Willis and have stuck by their mom through all of the ups and downs of their relationship, as well as the relationship between Moore and Kutcher.
"Since breaking up with Ashton, Demi has been a mess," the source added. "The girls were there for her through the split and the rehab, but now they just feel like they need a little distance. Demi is being very needy right now and the girls are tired of it. They want a mother not a little sister."
After Moore and Kutcher went public with their split, Moore seemed to be on a downward spiral. She collapsed and was rushed to the hospital for an "unknown illness" in January and has since been trying to rebuild her life. At the time, Moore released a statement saying she had "chosen to seek professional assistance to treat her exhaustion and improve her overall health."
Moore appeared to be recovering, but these latest reports contradict her improvement. Now that she has allegedly been cut off from her daughters, one may wonder whom she will turn to. She has had a good relationship with Willis, though he is married and has a new daughter.
"Demi is beside herself over the situation. She hasn't spoken to Scout, Rumer or Tallulah for weeks now. They won't return any of her calls, emails or texts. The girls have cut off all contact with Demi, and she is absolutely devastated by it," the source told Radar Online.
"She has returned to work and is trying to hold herself together, but this is a really tough time for Demi," the insider added.
Demi Moore's Daughters Worried She's Relapsed