Democrats Grieve Clinton Loss as Trump Supporters Celebrate 'Velvet Revolution' in New York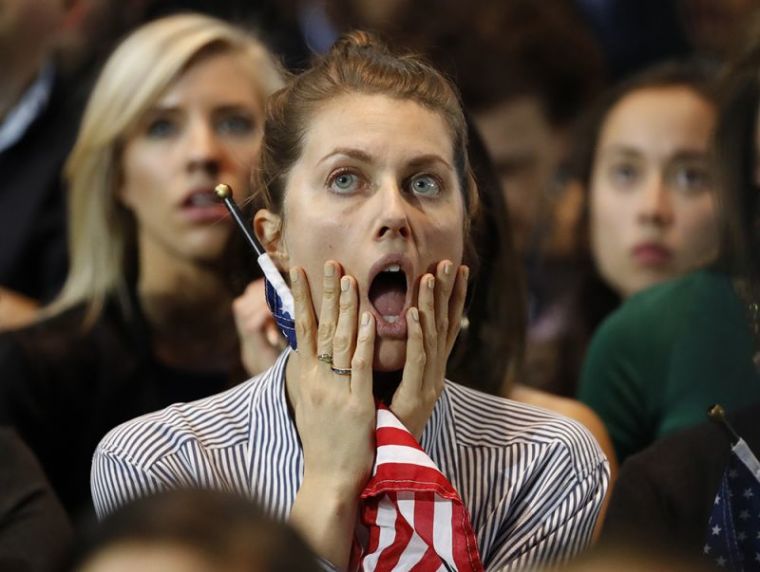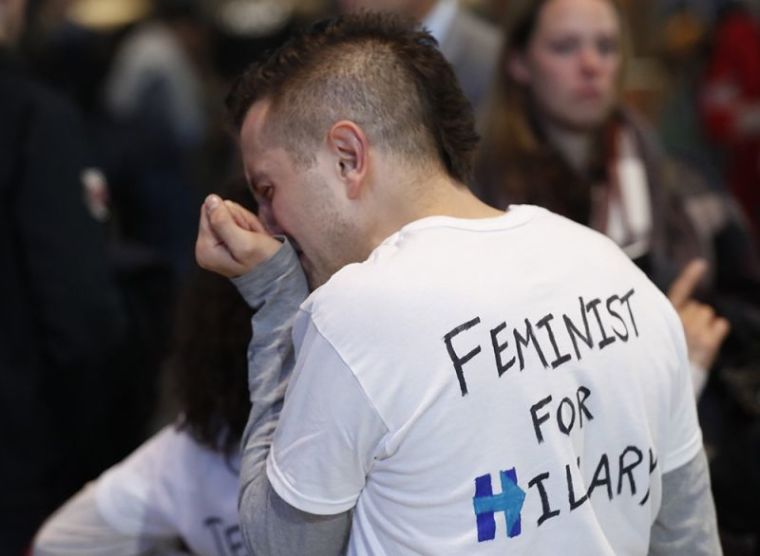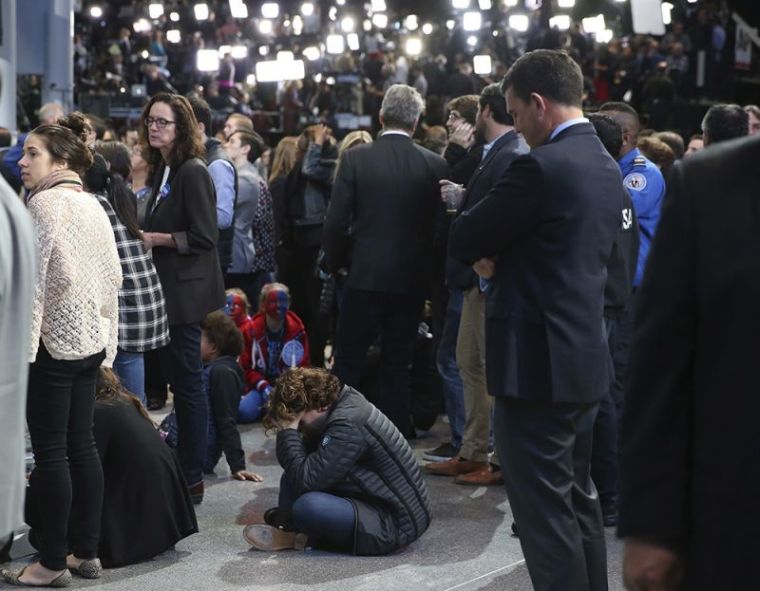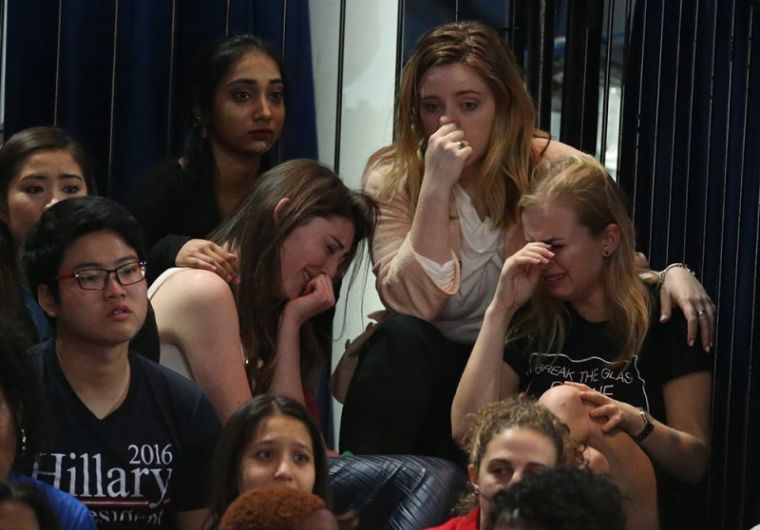 View Photos
NEW YORK — The results of the 2016 U.S. presidential election streaming in on jumbo screens in the middle of Times Square popped the balloon of expected victory among Hillary Clinton supporters like prickly pins until it was completely deflated on Tuesday night.
For the shocked minority of silent Donald Trump supporters at what should have been a huge Democratic victory party, however, it quickly became a time of celebration. It was crystal clear now that Republican presidential nominee Donald Trump, 70, would defy many expert predictions and deliver a stunning upset to his Democratic rival to be elected as the 45th president of the United States.
"It was rigged. It was absolutely rigged," screamed a man leading a militant multiracial group of men celebrating among the crestfallen Clinton supporters. "When the media and the Clinton campaign are absolutely one and the same it's rigged. It didn't work though. This was a people's velvet revolution. It didn't work."
Members of one Long Island, New York family armed with an American flag and a sign bearing Trump's popular campaign slogan "Make America Great Again" endured scoffs from Clinton supporters as they celebrated along 7th Avenue.
"We're exhilarated. He did it! He did it! We're a little surprised but very happy. He believed in himself and America believed in him a little bit. It's a great country. It's about freedom and opportunity and he'll do a great job," said Patrick Holt.
"We came out from Long Island about an hour and a half away as soon as we thought he had it won about 11 o'clock. We're so happy so let's get out to FOX, let's get out to headquarters and make some noise," he added.
Kathleen Holt who was traveling with him said she couldn't support Clinton even though she invoked the woman card.
"A woman is great in the White House but I don't agree with her policies, I want fiscal sanity, I want judicial sanity. I don't look at it that way, woman or not. It's not important to me," she said.
"The media was against him all the way, his own party was against him half the time and he still did it," said Ross Holt. Mimicking the accent of Donald Trump's wife, Melania, Ross added: "His wife said 'Donald, you know if you run, you will win.' He won!"
Fred Getrinari, a Con Edison worker from Queens, New York said even though he voted for Trump, he didn't expect him to win because "he's not a politician." Trump's win, he added, simply shows that "people are fed up with politicians."
"New York's a democratic town," he admits but said he "couldn't vote for her."
"She's got too much luggage, bad history. It goes back a long time and I feel she skated a lot of issues. She got away with a lot of stuff that if he did it .... The press was against him, so he's gotta be doing something right. The Daily News, I mean from day one, vilified this man," said Getrinari.
Carlos Lopez said he planned on taking the day off from work on Wednesday in honor of Trump's win.
"I'm gonna celebrate Trump winning. I want(ed) Trump to win because there's gonna be a lot of jobs here in the United States so everybody could have a piece of the pie. We need to put the people to work," he said.
Clinton supporters shell-shocked by the outcome of the elections quickly began clearing the square with many of them too upset to speak.
"I'm really not in a great mood right now. I am very disappointed in the American people. That is all I can tell you, I have nothing else to say," one upset female voter told The Christian Post.
"You know I thought the election was a joke in the beginning and now, now, this, this," she said gesturing to the election results in favor of Trump looming from the huge screens in the middle of Times Square.
"If somehow I wake up in the morning and Hillary is president, it doesn't change the fact that half of America voted for this man, this racist man. It's really sad, I'm lost for words right now. We all knew that we were picking between sh*t and sh*t, I thought Hillary was the lesser of the two evils, apparently America thought that Donald was," she said.