Democrats (Still) Have a Religion Problem; Republicans (Still) Have a Race Problem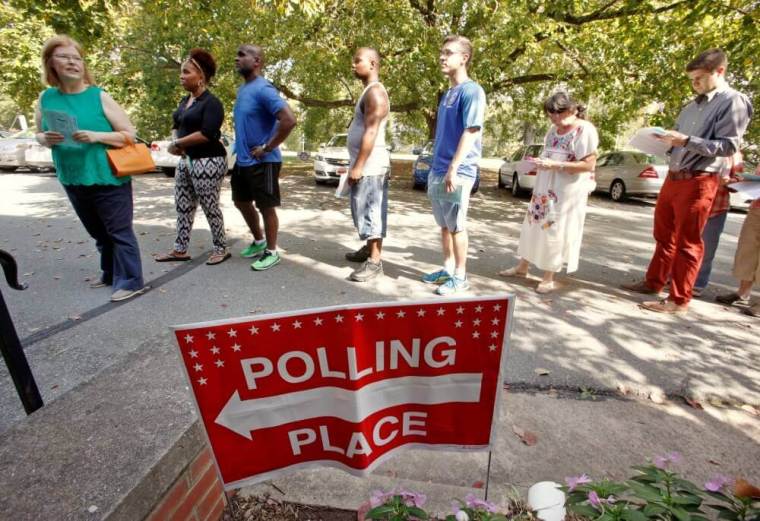 "Race, religion and politics are on a collision course that will shake up the political parties," I wrote in 2014, but it's even more obvious today. And despite the political upheavals of 2016, leaders of both parties are clueless as ever.
That analysis was followed with a three-part series:
1. Democrats Have a Religion Problem; Republicans Have a Race Problem

2. Democrats Will Lose Elections if They Don't Fix Their Religion Problem

3. Republican 'Whites Only' Strategy Is Recipe for Disaster; Try This Instead
Let's revisit those and see how the parties are doing today.
Democrats
After losing big in 2016, you might think the Democratic Party would be open to rethinking its current trajectory. You would be wrong.
In 2014 I pointed to Democrats warning their party of their religion problem, such as Brookings Institution senior fellows E.J. Dionne and Bill Galston, and Michael Wear, who led President Barack Obama's faith outreach in 2012. Wear continues that message in a book that will be published this month, Reclaiming Hope: Lessons Learned in the Obama White House About the Future of Faith in America.
In a Thursday interview with The Atlantic's Emma Green, "Democrats Have a Religion Problem," Wear talks about Democratic Party leaders being "openly disdainful toward" people of faith.
"There are reports that high-level Democratic leadership was not interested in reaching out to white Catholics. And they sure didn't have a lot of interest in white evangelicals. That's a huge portion of the electorate to throw out," he said.
When asked why Democratic leaders chose to not do outreach to people of faith, Wear added, "It's much easier to make people scared of evangelicals, and to make evangelicals the enemy, than trying to make an appeal to them."
While I focused mostly on religious freedom and Wear focused mostly on abortion (at least in the interview, I haven't read the book), our conclusions are similar: Democrats will continue to lose elections if they keep showing hostility toward people of faith.
Interestingly, Democrats had learned that lesson before, but have seemingly forgotten it.
After suffering devastating losses in 2004, the Democratic Party, under the leadership of Howard Dean as DNC chair, embarked on a strategy of reaching out to people of faith which they dubbed "Faith in Action."
As part of that effort, for instance, Dean appeared on Pat Robertson's TV show, "The 700 Club," and House Democratic leaders Nancy Pelosi, Calif., and James Clyburn, S.C., visited the church of Texas televangelist Pastor Joel Osteen.
More importantly, Dean recruited conservative Democrats to run in congressional districts held by Republicans, such as Heath Shuler, N.C., Bobby Bright, Ala., Tom Perriello, Va., and Kathy Dahlkemper, Pa. These candidates were, to varying degrees, pro-life, pro-marriage, and pro-gun.
The strategy worked. In 2006, Democrats picked up 31 seats in the House and six seats in the Senate to win control. The strategy continued in 2008 and they picked up an additional 21 seats in the House, six seats in the Senate, and the presidency.
Amy Sullivan wrote about the Democrats' faith outreach in her 2008 book, The Party Faithful: How and Why Democrats Are Closing the God Gap.
Green recalled a story from Wear's book in which he drafted a faith-outreach fact sheet containing the biblical phrase "the least of these." Another staffer kept deleting it with the comment, "Is this a typo?"
Sullivan's book is full of stories like that. When one senior political operative was introduced to Mara Vanderslice in 2004 and told she would be leading faith outreach for the John Kerry presidential campaign, he asked, "How the f*ck did you get hired?"
When I do get a copy of Wear's book, I suspect it will be eerily similar to Sullivan's, with the difference being that Sullivan wrote about the Democrats successfully learning lessons from its losses.
The Democrats could've gone back to the Dean strategy by, well, going back to Howard Dean. He ran for the DNC chair position last month. It would seem to be a smart pick, given that the last time they were successful was when he was DNC chair. Instead, Dean has dropped out of the race and the leading candidate is one of their more liberal House members, Keith Ellison, Minn., indicating Democrats have no desire to return to the Dean strategy.
Dionne once quipped, "The Democrats found religion in the 2004 exit polls." So why didn't they find religion in the 2016 exit polls?
As awful as that sounds for Democrats, Republicans appear to be in even worse shape in the long term.
Republicans
Having won, Republicans are in even more danger of not learning lessons from the 2016 election.
In 2014 I wrote that Republicans might be able to win in 2016 by mobilizing more white voters, but that "would be a strategy that trades short term gains for long term losses." Not only did Republicans take the exact path I advised against, but they did it in the worst way imaginable. Donald Trump mobilized working class white voters by feeding racist and anti-immigrant sentiments.
With white voters declining as a share of the voting population, Republicans have hurt their chances to win future elections by reinforcing that notion that it is the party for white people.
The 2016 election was already close. In the popular vote, Hillary Clinton had almost 2 million more votes than Trump, and if only two states had gone her way she would be the next president. And she was an unpopular candidate to begin with. Republicans are unlikely to win again with the same strategy they used in 2016.
What happens next will depend on the choices of party leaders. In their rhetoric and their policies, Democrats can choose to stop offending people of faith and Republicans can choose to stop offending people of color.
With the country becoming both more non-white and more religious, one or both of those are likely in the long term because political parties are pragmatic, designed to win elections.
Which party will learn first?