Dennis Rodman Cries After the Success of Donald Trump and Kim Jong-un's Singapore Summit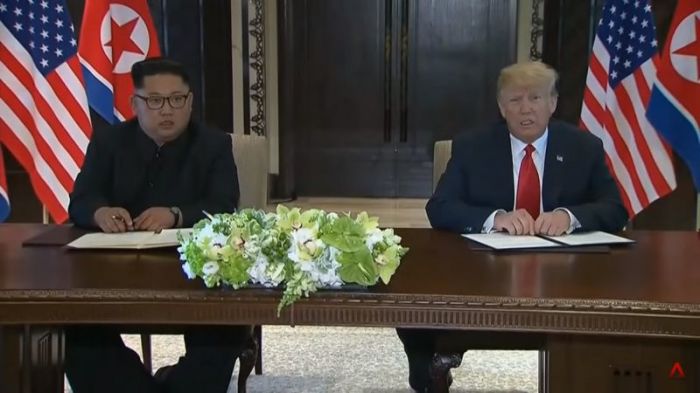 Former NBA star Dennis Rodman became highly emotional after US President Donald Trump and North Korea leader Kim Jong-un formally forged a diplomatic agreement during their meeting in Singapore on Tuesday, June 12.
In an interview with CNN's Chris Cuomo, the retired basketball player was not afraid to shed tears after being overcame with emotion during the historic event.
The NBA Hall of Famer, wearing a red "Make America Great Again" baseball cap, said that he was very happy that the meeting of Trump and the North Korean leader ended on a positive note.
Rodman also reiterated that he had a hand in bringing the two heads of state together since he had always advocated about helping North Korea for a long time.
But the former NBA star, whose trip to Singapore was funded by a Marijuana cyptocurrency company Potcoin, claimed that he should not be credited for the positive outcome of the summit between the two countries. Instead, he lauded the US president for his efforts.
"Everything else should be in Donald Trump's hands and people in the White House's hands. I'm out of it," Rodman stated. "I'm so happy just to be here, man, and see everyone in the world get emotional like I did. Donald Trump should take a lot of credit because he went out of the box and made this happen," he added.
The former Chicago Bulls player could be the only person who can claim to have personal relationships with both leaders. He appeared in Trump's reality TV show "The Celebrity Apprentice" in 2009 and became friends with Kim after his first trip to North Korea in 2013 to host basketball exhibitions.
He also shared that Trump reached out to him through his secretary to express his gratitude. According to the ex-NBA star, the secretary told him that the president is very proud of him and that Trump likes him a lot.
He also compared Trump's efforts with former US President Barack Obama's policy towards North Korea.
"Obama didn't even give me the time of day. 'I have something to say from North Korea,'" Rodman stated. "He brushed me off. That didn't deter me. I kept going back," he added.
Rodman also explained why he traveled all the way to Singapore even if he is not an official member of the US delegation for the summit. According to the retired basketball pro, he will spend three days in the country because he wants to witness the historic event firsthand.
He also revealed that he is very confident that the Singapore Summit between the two countries will have a favorable outcome. "I know President Trump is the best negotiator in the world and looking forward to a historic outcome for the world," he said.
Rodman's hopes turned into reality after the landmark meeting between the two heads of state wrapped up their five-hour discussions.
According to ABC News, details about the minutes of the meeting remain under wraps. However, it is expected to include the discussions about North Korea's nuclear weapons program.
Trump has yet to talk about contents of the meeting, but he already released a video montage of the event highlights in his Twitter account.