Despite Recent Unveiling, 'The Elder Scrolls VI' Is Still Far From Being Released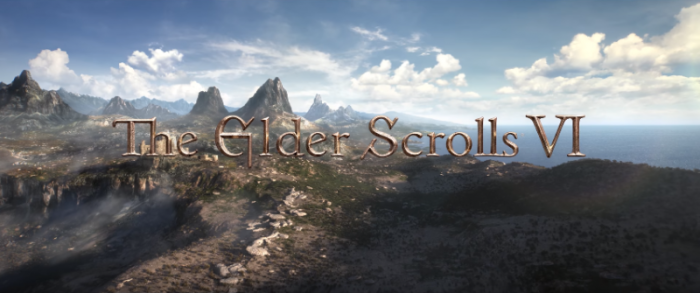 The announcement that numerous gamers all over the world have been waiting to hear for such a long time was finally shared by Bethesda at their E3 press conference this year. Before ending a jam-packed press conference, the folks at Bethesda shared a brief teaser for the eagerly anticipated "Elder Scrolls VI."
The teaser is just a little over 30 seconds long, but it didn't matter, that short video was more than enough to get fans all kinds of excited for the next entry in their beloved high fantasy RPG series.
<iframe src="https://www.youtube.com/embed/OkFdqqyI8y4" frameborder="0" width="560" height="315">
Unfortunately, beyond confirming that, yes, there is a new "Elder Scrolls" game on the way, the teaser did not offer any other important bits of information.
A mountainous setting is featured in the teaser, but there are several regions in Tamriel that have mountain ranges. Near the end of the teaser, a city also appears to be shown in the distance, but the camera does not come in close enough to provide a good look at it.
Because this is an "Elder Scrolls" game, the main setting is of utmost importance, and that's why fans are already trying to figure that part out.
Over on Reddit, many fans are speculating that this upcoming game will be set in Hammerfell. The rumors of "The Elder Scrolls VI" being situated in Hammerfell have been going around for a while now, so this is nothing new.
There are also fans speculating that the game could be set in locations such as Akavir and High Rock, but again, clues that would hint at one of those being the main location remain unavailable at this time, and that's probably not an accident.
The developers didn't just forget to announce the main setting along with releasing the teaser.
There's a chance that the reason they are still keeping that important piece of information under wraps is that they may still be considering their options.
Per a recent report from DualShockers, Bethesda Game Studios executive producer Todd Howard noted that the next "Elder Scrolls" game is still in the pre-production stage at this point in time.
Howard added that the technology needed to bring his vision for the upcoming game to life is not ready just yet, but he did say that "it's getting closer."
It's easy to get swept up in the excitement that comes from such a long-awaited announcement, but fans should not get carried away. It would not at all be a surprise if this particular game spends another two or three or possibly even more years in development.
The developers at Bethesda Game Studios are focused currently on "Fallout 76," after all, and after that, they will turn their attention to their new IP known as "Starfield."
It's not out of the realm of possibility that the new "Elder Scrolls" game may even be a next-gen title, as that could explain why Howard has said that the technology needed for it not ready yet but is getting closer.
Fans should indeed celebrate the official announcement of "The Elder Scrolls VI," but they should also know that they are still going to have to wait a while before they will be able to play it.