'Deus Ex: Mankind Divided' News: Square Enix to Reveal Gameplay at E3 2015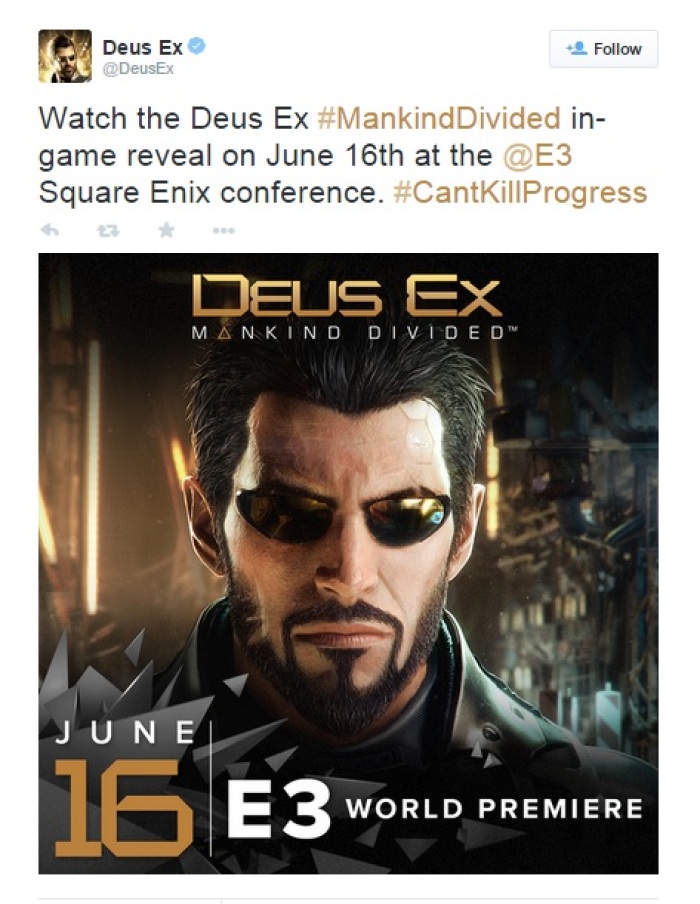 Two months after game developer Square Enix officially announced the development of "Deus Ex: Mankind Divided," not much has been heard about the upcoming game. This is set to change at the E3 2015, where Square Enix is planning to reveal the game's gameplay during the company's press conference on June 16.
According to a report in IGN, Square Enix confirmed that "Deus Ex: Mankind Divided" will be part of their E3 press conference through an announcement on Twitter that said: "Watch the Deus Ex #MankindDivided in-game reveal on June 16th at the @E3 Square Enix conference."
"Deus Ex: Mankind Divided" is the fifth game of the "Deus Ex" series. It is a first-person action role-playing game that has a dystopian and "cyber-punk" theme. It was developed out of Square Enix's Eidos Montreal studio. The upcoming game is not a sequel of the 2013 "Deus Ex: The Fall" but rather a direct sequel of the 2011 "Deus Ex: Human Revolution." It is set two years after the events in "Human Revolution" in 2029. The same playable character in its precursor game, Adam Jensen, returns to the gaming screen.
Jensen is once again caught in between opposing groups in the dystopian society -- there are several groups who would like to exercise over society through human augmentation and those who are against human augmentation for ethical reasons. The gameplay for the new game is expected to be much like the rest of the series which is a combination of different gameplay styles from role-playing, stealth, shooter and adventure.
The game series is considered a popular one, with over 4.5 million copies of the game sold. With no release date in sight, the E3 2015 reveal may include that in its announcement. The game will be available for PC, the PlayStation 4 and the Xbox One.