Disney's Tiffany Thornton Defends Marriage to Church Worship Leader Against Critics Saying It's Too Soon After First Husband's Death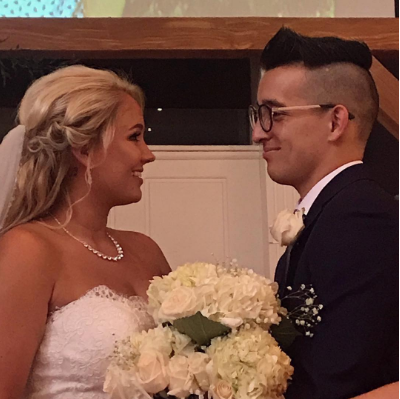 Disney star Tiffany Thornton has been fending off some flak from critics after marrying church worship leader Josiah Capaci.
She looked radiant in a strapless white dress as she tied the knot on Saturday with Capaci, worship pastor at Gospel Light Church and Teen Revolution in Hot Springs, Arkansas.
She was more than happy to share photos of her joyous day with her Instagram followers but some didn't take so well to the news, accusing her of moving on too soon after the death of first husband Christopher Carney.
Carney tragically passed away in a car crash in December 2015 after they had been married for just three years. He was survived by Thornton and their two little boys, Kenneth James, 5, and Bentley Cash, 3, who were among the guests at their mom's wedding to Josiah.
But the Sonny With a Chance star Thornton wrote in a heartfelt message on Instagram that her union with Josiah was a 'gift from God' and that her first husband would approve of the choice she made for her and their children. Defending her second marriage, she said the 'near perfect love' she and Josiah felt for one another 'trumps my need to snap back at people who have the audacity to comment on my Instagram about whether I loved my first husband or not.' 'There is no timeline for grief or for when God moves in your life in undeniable ways,' she wrote. She continued her post saying she needed to be honest with her critics because she felt it's what God wanted her to do. 'I was a mess yesterday during our wedding ceremony. So many emotions flooded my heart as I walked down those balcony steps to the arms of my gift from God. I thought of Chris watching us and knowing he would have loved the choice I made, for me and for the boys.' >
She added that Chris' parents were even sitting in the front row as she and Josiah exchanged vows and explained that she hadn't planned to fall in love so quickly after Chris' passing, but she felt it was God taking care of her because He knew it would be difficult for her to submit to the authority of a husband if she went too long without one.
'Jo came along EXACTLY when God knew I needed him,' she said, adding, 'God's timing is not our own. And I praise Him for that. You should too.'
Thornton even received some kind words of encouragement for her big day from former Sonny With a Chance co-star Demi Lovato.
'Couldn't be happier for you T. Love you so much and so sorry I couldn't be there yesterday!!!' she wrote.