Is Donald Trump an Atheist?
Social Media Photo Meme Falsely Claims Donald Trump Came Out as an Atheist in 1989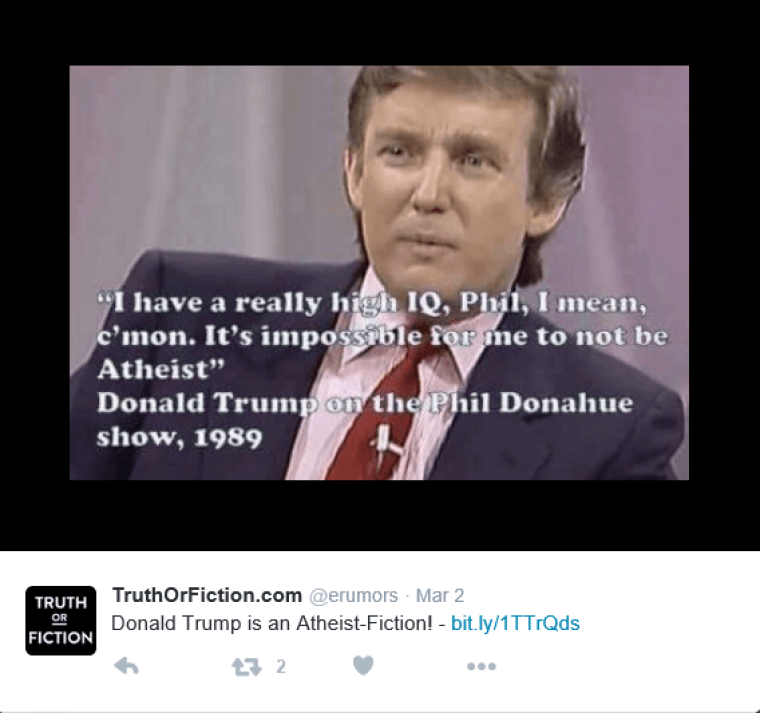 A widely circulated photo meme on social media claims that Republican front runner and billionaire real estate mogul Donald Trump came out as an atheist back in 1989.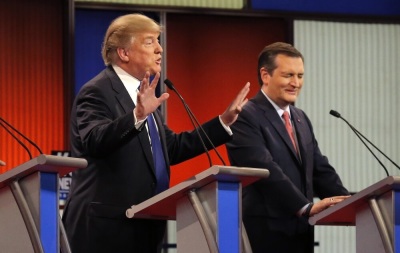 According to the meme, Trump told Phil Donahue on an episode of his program in 1989 that he was too smart to believe in God.
"I have a really high IQ, Phil, I mean, c'mon. It's impossible for me to not be Atheist," says the caption attributed to Trump, along with a photo of "The Donald" from the 1980s.
However, according to the research done by the anti-gossip website Snopes.com and posted on Thursday, the quote is a fabrication.
"We found no evidence that Trump uttered this phrase, and no evidence that he even appeared on The Phil Donahue Show in 1989," noted Snopes.
"The media mogul was a guest on the show in 1987, but there is no record of him discussing his religious views (or, more accurately, his lack thereof) during that appearance."
The viral meme came as Trump rides momentum in his campaign to become the Republican nominee for president.
On Super Tuesday, Trump won more states than all his GOP opponents combined, with primary voters in Alabama, Arkansas, Georgia, Massachusetts, Tennessee, Vermont, and Virginia picking him.
United States Senator Ted Cruz came in second for number of states won, snatching Alaska, Oklahoma, and Texas, which he represents in the Senate.
This is not the first time that a viral photo meme has claimed that Trump said something several years ago that shows his "real" intentions in this year's campaign season.
Another meme, first appearing last year, purports to quote a 1998 People Magazine interview Trump did where he said he would run as a Republican for president because they are "the dumbest group of voters in the country."
"They believe anything on Fox News. I could lie and they'd still eat it up. I bet my numbers would be terrific," continued the caption attributed to Trump.
Again, Snopes fact-checked the meme and reported that "we found no interview or profile on Donald Trump in 1998 (or any other time) that quoted his saying anything that even vaguely resembled the words in this meme."