Donald Trump Says He Can 'Bring People Together' By Overturning Supreme Court Gay Marriage Decision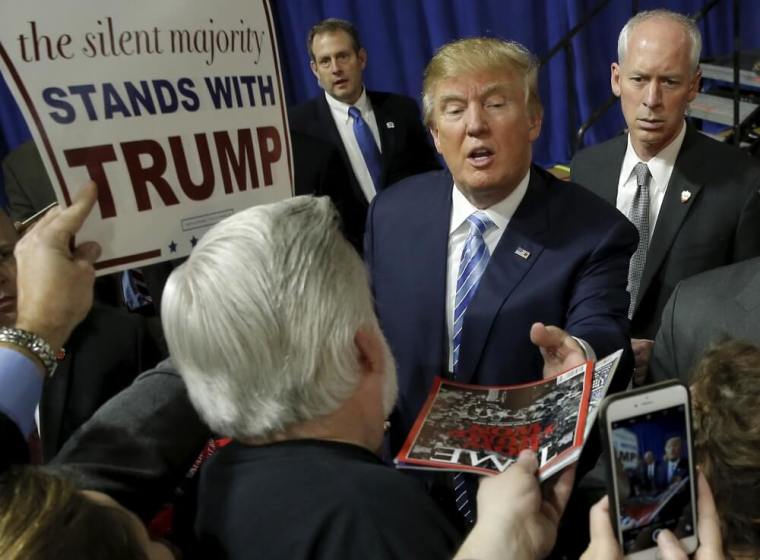 Republican presidential frontrunner Donald Trump says he would consider, if elected, appointing Supreme Court judges willing to overturn the Supreme Court's decision that legalized same-sex marriage nationwide, arguing the move would unite the country.
The Supreme Court ruled 5-4 in the landmark Obergefell v. Hodges case last June that state-level gay marriage bans are unconstitutional, concluding that the 14th Amendment requires states to issue marriage licenses to same-sex couples.
Trump, who has repeatedly said he is a proponent of traditional marriage, told "Fox News Sunday" host Chris Wallace two Sundays ago that he wasn't happy with the way the decision was made and believes the issue of same-sex marriage should have been addressed at the state level and not by the federal government.
"It has been ruled upon, it has been there, if I'm elected I would be very strong on putting certain judges on the bench that I think maybe could change things. They've got a long way to go. At some point we have to get back down to business but there is no question about it and most people feel this way," Trump told Wallace when asked about the issue.
"I disagree with the Supreme Court from the standpoint, they should have given the states, it should be a state's rights issue. And that's the way it should have been ruled on Chris. Not the way they did it. This was a very surprising ruling and I can see changes coming down the line quite frankly. I would have much preferred that they ruled at a state level and allowed the states to make those rulings themselves," said Trump.
When asked if he would appoint Supreme Court judges to overturn the decision on same-sex marriage Trump replied: "I would strongly consider that, yes."
Trump reiterated that position Sunday on ABC's "This Week" with George Stephanopoulos when asked to better articulate his position on same-sex marriage.
Stephanopoulos played a clip from an interview Trump did with Sue O'Connell from New England Cable News. O'Connell is a lesbian who publishes the region's largest gay newspaper. She asked the billionaire if the country would see "forward motion on equality" during a Trump presidency and he told her she could.
"Well, you can," Trump said. "And, look, again, we're going to bring people together, and that's your thing, and other people have their thing."
Without uniting, the country will get worse, he continued.
"And if we don't we're not going to have a country anymore. It's going to be a total mess. It's a mess right now. It's going to be worse."
Stephanopoulos pointed out that a majority of Americans now support same-sex marriage and that stripping gay couples of their rights could be divisive. He asked Trump how appointing Supreme Court judges who oppose same-sex marriage would move the country toward equality.
Trump said: "We'll find out. We're going to find out. There's a lot of people that want to see that, but more important than anything else to me, this country is so divided right now."
Pointing to the O'Connell interview he added: "This country is so totally divided. It is probably almost never been as divided as it is right now and we have to bring it together."
He reiterated that he would look at Supreme Court judges when it comes to the issue of same-sex marriage and would prefer "that they stand against it."
"We are going to do whatever we have to do," Trump told Stephanopoulos. "I'm going to put the absolute best judges in position. If their views — we're going to see what their views are. I will make the determination at that time."