Donald Trump Compares Himself to Billy Graham; Says 'My Favorite Book Is the Bible'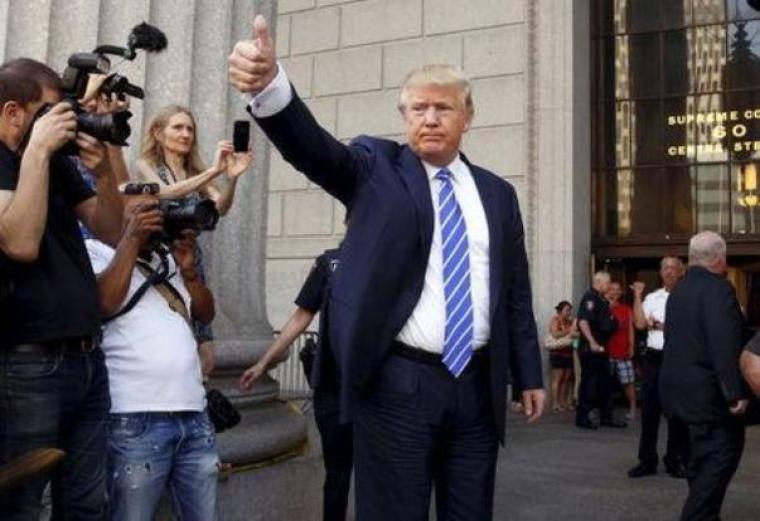 Republican presidential front-runner Donald Trump looked at the crowd gathered for his rally at a 40,000-seat college football stadium in Mobile, Alabama, saying he now knows how evangelist Billy Graham felt. He also said the book he likes the most is the Bible.
"I know how Billy Graham felt," Trump, a billionaire businessman, said, apparently jokingly, as he began his speech at Ladd-Peebles Stadium, which was about half-full.
Trump also said, "What's my favorite book? The Bible! The Bible. ... We take the Bible all the way," according to The Washington Post's national political reporter Robert Costa, who tweeted the Republican candidate's remarks.
Anticipating a big turnover, Trump's campaign had to change the venue at the eleventh hour, to the football stadium. Trump was planning to hold the rally at the Mobile Civic Center arena, which seats only about 10,000 people, according to Yahoo News.
His campaign, which was expecting a crowd of about 35,000 people at the rally Friday night, also arranged for free shuttle buses, according to Mobile Press-Register.
"We have politicians that don't have a clue," Trump, who was wearing a red hat with his slogan, "Make America Great Again," written on it, said. "They're all talk, no action. What's happening to this country is disgraceful."
The Republican frontrunner added: "We're running on fumes. There's nothing here. ... We're not going to have a country left. We need to have our borders. We need to make great deals."
Talking about illegal immigration, he said, "We've gotta stop it. We're going to build a wall."
"In the case of other countries, including Mexico, you can't walk over the border and have a new citizen," he added. "We're the only place just about that's stupid enough to do it."
At the Family Leadership Summit in Iowa last month, Trump was asked about his faith.
"People are so shocked when they find out I am Protestant. I am Presbyterian. And I go to church and I love God and I love my church," he said.
Asked whether he has ever asked God to forgive him, Trump responded, "I am not sure I have. I just go on and try to do a better job from there. I don't think so. I think if I do something wrong, I think, I just try and make it right. I don't bring God into that picture. I don't."
He further explained, "When I drink my little wine — which is about the only wine I drink — and have my little cracker, I guess that is a form of asking for forgiveness, and I do that as often as possible because I feel cleansed. I think in terms of 'let's go on and let's make it right.'"
Talking to CNN later, Trump denied that his statements damaged his chances with Evangelical voters, and said his polling in Iowa is very strong. However, he added that he'd "change" his "tone" as president. "Right now I'm trying to do something to make this country great again."