Dove Awards 2013: Tamela Mann Talks Overcoming Fear, Self Doubt Through God
Gospel singer and acclaimed actress, Tamela Mann, opened up about overcoming fear and self doubt through faith following her recent Dove award wins.
The "I Can Only Imagine" singer, 47, won Traditional Gospel Song of the Year for "Take Me To The King" and Traditional Gospel Album of the Year for "Best Days." She expressed gratitude and excitement during an interview with the Christian Post.
"Wow! I'm so excited. This is my second Dove Award and trust me I'm still just as nervous but I'm so grateful to God," Mann told The Christian Post exclusively at the 44th Dove Awards in Nashville, TN., on Tuesday.
"It's just a wonderful feeling and I thank God for my wonderful team and the writer of the song Kirk Franklin and my husband [David]... so many people to thank I'm just excited to be here," she added.
Mann first launched her music career in the early 90s after joining the multi-grammy award winning gospel phenomenon Kirk Franklin and the Family. She recalled her struggles with body image and praised God for helping her overcome her fears during that time.
"For me starting out especially being a thick girl... in the industry in the beginning even when I was background for Kirk Franklin being a thick girl it's like you're [good] enough to be heard but not seen and that was one of the biggest challenges that I fought with in the beginning," she said.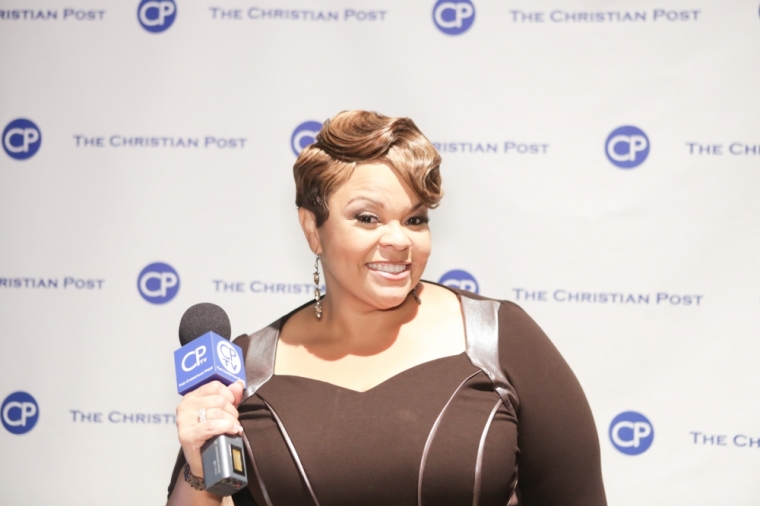 Mann said that putting all of her faith in God gave her the confidence she needed to ultimately pursue her dreams.
"Our fear keeps us from reaching goals but I'm here to tell you if you really trust and believe in God he can help you get over your fear because he hasn't given us the spirit of fear but with will power and a sound mind that's how I made it through," she explained.
The Grammy award nominee has enjoyed great success over the years, most recently after the 2012 release of her third studio album "Best Days" which debuted at #1 on the Billboard Top Gospel Albums chart. On October 29 Mann will debut her "Best Days Deluxe" edition and she spoke about how her faith and people continue to inspire her work.
"My faith is all I have. I feel like you know God is really my everything... God is first in my life. My main goal to achieve is to please him... that my ways please him and His word said that He will give me the desires of my heart and I'm trying not to cry but God is doing just that and I 'm so grateful," she said.
"So many things have happened to me this year that has made my faith even stronger in God... That goes to those who are listening, if we just trust Him and obey, God will do whatever you're asking him to do," she added.
The Texas-born singer is currently working on a sitcom with her husband David as well as a reality TV show. The couple has previously starred alongside one another in a number of Tyler Perry plays including "Meet The Browns."
"We're actually working on a sitcom where me and David get to play man and wife this time instead of father and daughter and a reality show, a cooking show," she revealed.
"What inspires me is for people to be blessed by this (my gift) because it's something that I've always wanted to do... singing is the one thing I knew that God gave me that no matter what nobody could take it from me," she said.
The 44th Dove Awards airs Monday, October 21 at 8PM EDT on the UP network.
Top Dove Award Winners
Artist of the Year: TobyMac
Song of the Year: "10,000 Reasons (Bless the Lord)," Matt Redman, (writers) Matt Redman, Jonas Myrin
Songwriter of the Year: Matt Redman
Rap/Hip Hop Album: Gravity, Lecrae, (producers) Heat Academy, Joseph Prielozmy, J.R., The Watchmen, Dru Castro, Uford Ebong, Tyshane, Thainnacircle, DJ Kahalil, Zach Crowell, Dirty Rice, DJ Official and Rudy Currance
Pop Contemporary Album: Eye On It, TobyMac, (producers) David Garcia, Toby Mckeehan, Christopher Stevens, Jamie Moore, Telemitry
Praise & Worship Album: Burning Lights, Chris Tomlin (producers) Jason Ingram, Ed Cash and Dan Muckala
Contemporary Christian Performance of the Year: "10,000 Reasons (Bless the Lord)," Matt Redman
Southern Gospel Performance of the Year: "What The Blood Is For," Jason Crabb
Gospel Performance of the Year: "Break Every Chain," Tasha Cobbs
New Artist of the Year: for King & Country
Producer of the Year: Ed Cash
For more information on the Dove Awards CLICK HERE