Dr. Dobson Explains Remarks at Nat'l Day of Prayer Condemning Obama as the 'Abortion President'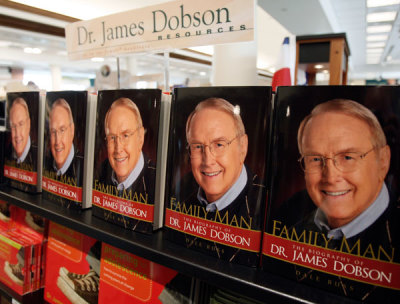 California Democratic Rep. Janice Hahn walked out of the National Day of Prayer event on Capitol Hill Thursday after hearing Dr. James Dobson refer to President Barack Obama as "the abortion president."
Speaking to Fox News host Megyn Kelly on "The Kelly File" Thursday night Dobson, the founder of Focus on the Family and "Family Talk," a Christian radio ministry, explained the significance of his comments and context in which the statement was made.
"President Obama has not only done everything he could to promote abortion, and he let us know that before he was elected, and the people elected him anyway," said Dobson, who was seated next to his wife, Shirley, who has been the chairwoman of the event since 1991.
Dobson added that, in his opinion, Obama's policies show that "he is determined that people of faith and people of conscience are going to have to go along with it and be part of it (abortion)."
In his speech, Dobson commented: "Before [Obama] was elected, he made it very clear that he wanted to be the abortion president. He didn't make any bones about it, that this is something that he really going to promote and support. And he has done that. And in a sense, he is the abortion president."
On April 17, a federal judge granted an injunction for Dobson and his "Family Talk" radio show, blocking the Obamacare mandate that would have required the coverage of abortion-inducing dugs under their healthcare plan, despite religious objections to abortion.
Dobson told Kelly that, in his speech, he wasn't only referencing Obama, but was also talking about people's response to the mandate and abortion, in general. "It's very difficult for people who aren't part of the sanctity of life movement to understand just how intensely we feel the issue of the killing of babies."
As part of his speech, Dobson read from a letter he sent out to supporters two years ago, in which he was critical of the president for his support of abortion and abortion providers, such as Planned Parenthood.
Hahn, who walked out of the National Day of Prayer, told CQ Roll Call that she attended the event to hear this year's honorary chairwoman Billy Graham's daughter, Anne Graham Lotz, but decided to leave because of Dobson's comments.
"We have this annual, national day of prayer, which is supposed to bring the whole country together to pray for our nation, and typically you put politics aside and you come together," Hahn told CQ Roll Call. "Dr. Dobson just absolutely violated that, and I really think he did damage to what we try to do up here in Washington, D.C."
Dobson, who described the event as a positive, uplifting experience where those assembled frequently erupted in applause during his speech inside the packed room at the Cannon House office building, where people were lining the hallway waiting to get in, told Kelly that there has been too much focus on the one person who left.
"One person chose to walk out, as far as we know," he said, "and that's what everybody focuses on. But the people who were there were with me 100 percent, because they also believe in the sanctity of human life."
Dobson added that 43,000 prayer events were held throughout the country Thursday. The theme for this year's event was "One voice, united in prayer," which is based on Romans 15:6: "So that with one mind and one voice you may glorify the God and Father of our Lord Jesus Christ."