Dr. Kent Brantly Leaves Hospital After Battling Ebola: 'Today Is a Miraculous Day'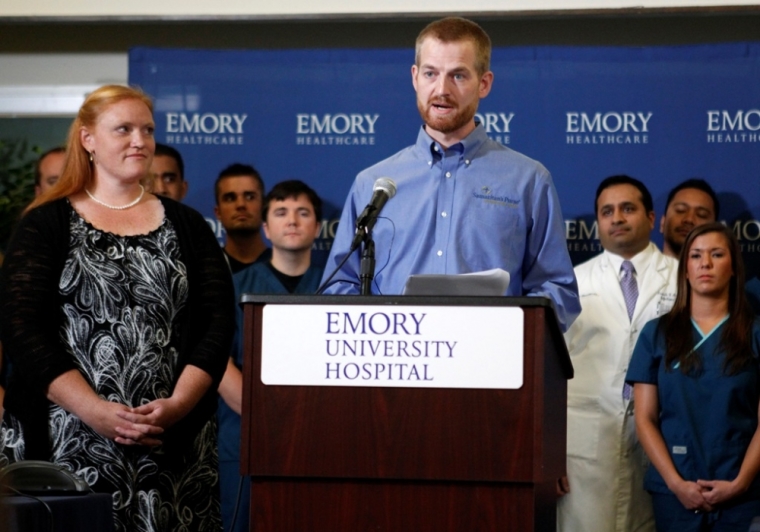 Dr. Kent Brantly has officially been discharged from Emory University Hospital in Atlanta and was sure to thank God and those responsible for helping him recover from the deadly Ebola virus.
"Today is a miraculous day," Brantly said at the news conference. "I am thrilled to be alive, to be well, and to be reunited with my family."
Brantly, a doctor with Samaritan's Purse, and another missionary, Nancy Writebol, both contracted the disease while working in Liberia. They were flown back to the United States earlier this month for specialized treatment at Emory University, which has one of the nation's best Ebola treatment facilities. The two were treated with an experimental drug, ZMapp, and were under constant monitoring and hydration.
Writebol left the facility with her husband on Tuesday and has asked that her family be kept out of the news and have time to be together privately.
"To God be the glory," Writebol said before leaving the hospital, Brantly said in his own press conference.
Brantly credited the doctors with his recovery and received a plethora of hugs before leaving the facility. He has been able to communicate with his wife, Amber, through glass but was kept in isolation as is Ebola policy. Brantly has often spoken about his faith and issued several statements through the Samaritan's Purse organization.
"Today I join all of our Samaritan's Purse team around the world in giving thanks to God as we celebrate Dr. Kent Brantly's recovery from Ebola," Franklin Graham, Samaritan's Purse president, said in a statement.
The doctor hinted that he and his family may return to Liberia to continue working with those affected by Ebola. The makers of ZMapp told CNN that they sent their entire stock of the drug overseas to help battle the virus outbreak.