DryBath Invented by 22-Year-Old Boy, No Water Required (VIDEO)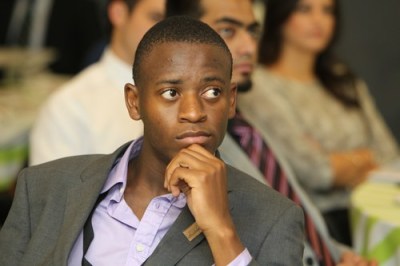 Ludwick Marishane, a student at the University of Cape Town in South Africa, has won the 2011 Global Student Entrepreneur of the Year Award for an invention that he came up with out of laziness.
The 22-year-old student has developed a waterless bath. Something like anti-bacterial but minus the strong kick, Marishane's invention develops a sort of film over the skin which cleanses and moisturizes all without the turn of a faucet.
Marishane isn't privileged either, but grew up with a more difficult background in a less than wealthy neighborhood. His idea was actually inspired by a friend who was both lazy and lacking hot water, but now it could drastically benefit others who suffer from even harsher conditions.
"He was lazy and he happened to say, 'Why doesn't somebody invent something that you can just put on your skin and you don't have to bathe,'" Marishane told Reuters of the friend who first sparked his idea.
It only took the young entrepreneur six months to develop a formula, through the use of "Google and Wikipedia," according to Reuters.
"The product is now manufactured commercially with clients including major global airlines for use on long-haul flights and governments for its soldiers in the field," Reuters reported.
Aside from convenience. Marishane also hopes his product will help those who come from communities that don't have enough water to maintain hygienic conditions.
"In developing countries, about 80% of illnesses are linked to poor water and sanitation conditions. 1 out of every 5 deaths under the age of 5 worldwide is due to a water-related disease," The Water Project organization website reported.
With Marishane's invention, however, some of those sanitation issues could be resolved.
"DryBath will go a long way in helping communities," Marishane said.
Dry Bath Invention