'Duck Dynasty' Family to Stage Musical in Las Vegas; Gay Advocates Troubled Colleagues Working With Them
'Duck Dynasty' Family to Stage Musical in Las Vegas; Gay Advocates Troubled Colleagues Working With Them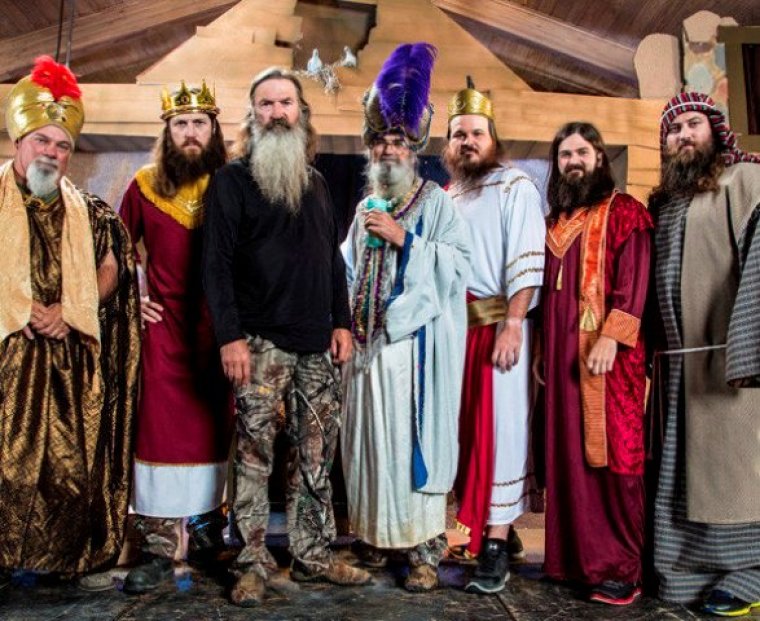 The conservative Robertson family of the popular A&E reality series "Duck Dynasty" are set to bring their signature brand of faith, food and swamp life to the stage in a Las Vegas musical with the help of a team from Broadway next year. But gay advocates are troubled some of their colleagues are working with the Robertsons whom they have branded homophobic.
A report in The New York Times says "The Duck Commander Family Musical" is expected to open in February 2015 at the Rio hotel and casino where the Chippendales and Penn & Teller shows are currently running. Actors are slated to play the family members in the musical expected to run about 90 minutes.
Willie Robertson, chief executive of the Duck Commander company, which had $40 million in revenue in 2012, told the Times in a statement that the family has approval rights over the script and casting for the musical and said making the show has been "a great ride so far."
"We've enjoyed the process of making a musical alongside the team who is interested in telling the Robertson family story from an outside perspective," said Willie Robertson.
Members of the gay community and advocates, however, have expressed alarm over the venture and surprise at the involvement of members of their community with the production.
"The family has become symbolic of a much larger and somewhat dangerous problem of what we're seeing in America — this issue of homophobia being masked as a religious value," Sarah Kate Ellis, president of GLAAD, a gay rights group that monitors depictions of gay characters in culture, told the Times on hearing of the show.
Robertson family patriarch Phil Robertson came under fire last December after he called homosexuality a sin in an interview with GQ Magazine. The outspoken patriarch was suspended by A&E after outcry from the gay community but reinstated nine days later after conservative fans pushed back.
Phil Robertson publicly opened up about that fiasco for the first time this September in comments to Us Weekly.
"All I did was quote a passage of Scripture from antiquity," said the 68-year-old Robertson. "They're mad at me, but I'm really just quoting what God said, so He's the one they have a problem with."
The show's Broadway producer, Michael David, and its musical director, Jeff Calhoun, who is gay, explained that they had found Robertson's comments offensive but they were already onboard with the project at the time and have chosen to address the remarks in the musical itself.
"The show will end up challenging the views and assumptions of people across the political spectrum, more than most theater does," said David, who sports a long gray beard like Phil Robertson. "The Robertsons are so unusual, their story so juicy, and theater shouldn't be limited to telling stories about people you resemble or revere."