Duck Dynasty's Missy Robertson on Faith, Miracles in New Book 'Blessed, Blessed … Blessed' (Interview)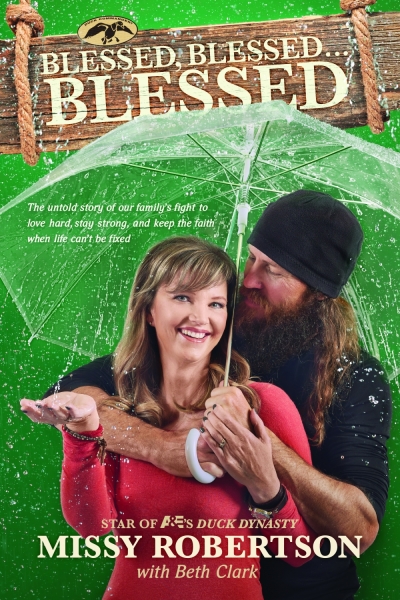 If faith and perseverance were muscles, then life would be the ideal resistance trainer, and Jase and Missy Robertson would be musclebound.
Toughened by life's tests and trials, the Duck Dynasty couple has cultivated the kind of faith that makes them sure about their family's future. " … Whatever happens, we're confident that God is going to be with us," Missy Robertson told The Christian Post last week in an interview. " … We know it 100 percent."
But that kind of certainty doesn't come easy — it's forged in the midst of adversity. For Jase and Missy, adversity came in the form of health challenges with their daughter, Mia. These challenges have taught them valuable lessons.
"I think we're a better family because of it," Missy told CP.
You won't find many who aren't familiar with the Christian couple, whose life is well documented on the hit A&E reality series "Duck Dynasty."
But in her new book, Blessed, Blessed … Blessed, Missy Robertson takes fans behind the scenes to a more serious side of her family, during the time they faced health challenges with daughter Mia.
At the time, Jase and Missy hadn't had much time to celebrate her new pregnancy before trouble found them.
Missy's blood type was A-negative and Jase's, O-positive, as were their two sons, Reed and Cole. It was expected that the unborn baby would also be positive, resulting in a condition known as Rh incompatibility — a conflict between the blood types of the mother and her unborn child. The mother's body could recognize the Rh protein of the baby as a foreign substance and attack it if the blood mixes.
In these medical cases, a Rhogam shot is required to neutralize the mother's blood type. Without it, her body would treat the baby as a foreign object and create antibodies to try to eliminate the pregnancy.
Missy had been administered the shot in the past, but failed to receive one after her last pregnancy. Now that she was pregnant with baby Mia, a shot was already too late.
Doctors told Missy that if they could get the baby to 26 weeks gestation, they could perform a C-section because the baby would have a better chance of surviving outside of Missy's body. When she inquired if there was even a slight chance that the baby could have negative blood, Missy was told that there was a very small possibility, but that it wasn't likely. But that sliver of hope was all Missy needed.
Her faith kicked into high gear.
"Immediately, my heart grabbed on to a hope I had not known before," Robertson writes in the book. "That was something Jase and I could pray for, and we started praying intensely right away."