Duck Dynasty's Phil Robertson Says He Won't Share a Restroom With Women Under Houston's Equal Rights Ordinance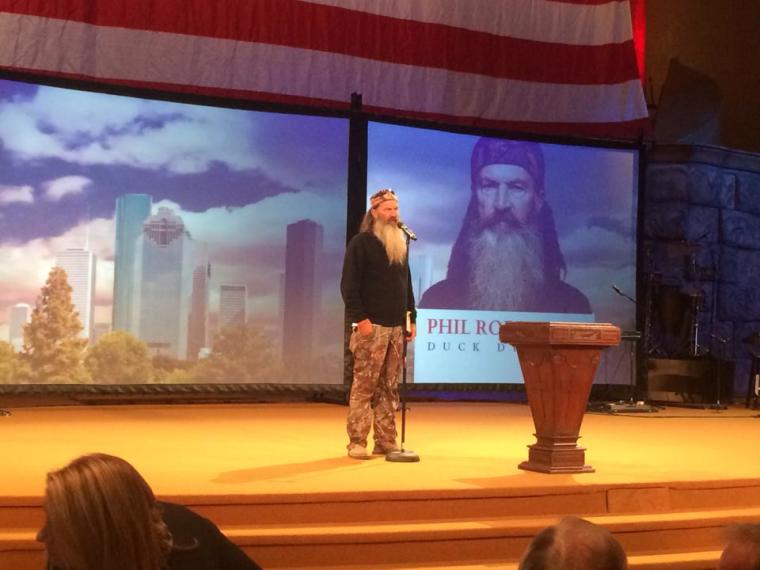 Duck Dynasty patriarch Phil Robertson declared Sunday night that he has no plans to share a restroom with Texas women under Houston's controversial Equal Rights Ordinance.
Robertson, who was one of several speakers at the "I Stand Sunday" event hosted by the Family Research Council and others at Grace Community Church in Houston, Texas, opened his speech with the declaration.
"For all you ladies in Texas, trust me when I tell you this, when you're seated in your restroom putting on your Maybelline, when I need to take a leak I'm not going there," Robertson said to wild applause.
The event focused of Christians having the freedom to live out their faith without government intrusion or monitoring. The event was a direct response to the sermons of five local pastors being subpoenaed in a legal dispute over the ordinance, which some say will allow men to use women's restrooms in the city. Houston's first openly gay mayor, Annise Parker, asked the city's legal department to drop the subpoenas last week.
Robertson in his speech argued that America's politicians appeared to have forgotten the tenets of the nation's founding fathers.
"America, America, it cannot be said too strongly or too often that this great nation was not founded by religionists, but by Christians — not on religions, but on the Gospel of Jesus Christ. Patrick Henry, great orator, one of our founding fathers said that," noted Robertson.
"The Apostle Paul said the Gospel has divine power to demolish strongholds. The reason the political pundits argue ad hominem, ad infinitum on television night after night … they call each other left, right, liberal, right wing, left wing, but there's never any Gospel there, ever," he continued.
"No talk about sin, no talk about repentance, none. No talk about Jesus, the son of God, nothing. And we wonder why we wound up like we are. I'm not ashamed of the Gospel because it's the power of God for salvation for everyone that believes first for the Jew then for the Gentile. That's everybody," said Robertson to standing ovation.
He then read from the book of Philippians and warned conservatives to stand and expect to suffer for their biblical principles.
"Whenever you go around with the love of God and the power of the Holy Spirit in you a lot can happen. This is my charge to all of you, especially you preachers. Whatever happens, boys, girls, conduct yourselves in a manner worthy of the Gospel of Christ. Then whether I come and see you or only hear about you in my absence, I will know, and this is what I hope and pray," said Robertson in personalizing the scriptures.
"Even old Phil Robertson, when he leaves here going back to the woods, I hope I will know when I leave just like the Apostle Paul that you will stand firm in one spirit contending as one man for the faith of the Gospel without being frightened in any way by those who oppose you. Trust me, it's coming," he said.
"Those who oppose you, this is a sign to them, your opposition that they will be destroyed. But that you will be saved and that by God. It has been granted to you, you lucky Texans … to not only believe in Jesus but also to suffer for Him. Praise God for suffering for Christ the son of God. Let's get it on," he ended as the crowd cheered.