Duggar Family '19 Kids and Counting' News: Jill, Jessa, and Josh Join Parents for Quadruple Date
Duggar Family '19 Kids and Counting' News: Jill, Jessa, and Josh Join Parents for Quadruple Date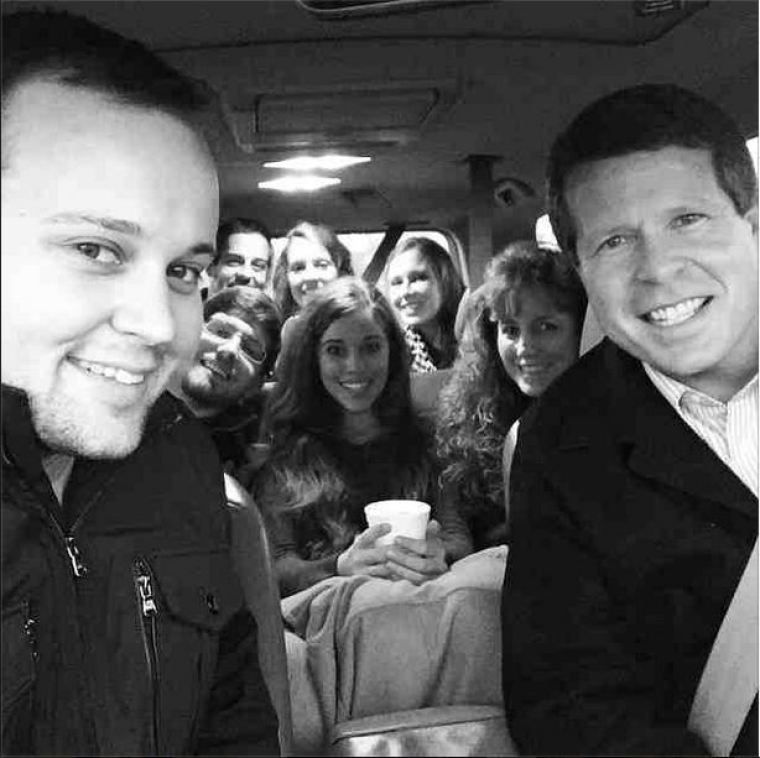 The entire Duggar family is together for the holidays in Northwest Arkansas, and to shake things up a bit, Jim Bob and Michelle Duggar brought their married children Josh, Jill, and Jessa along with their respective spouses Anna, Derick Dillard, and Ben Seewald along for a quadruple date.
Josh shared a photo on Twitter of the four couples crammed inside the Duggar's minivan, which shows him and Jim Bob at the front of the vehicle, Michelle, Jessa and Ben in the next row, and Derick, Jill, and Anna at the back. Josh captioned the shot, "Quadruple-date with these people!"
Both Jill and Anna are expecting, with Jill due on March 24th, while Anna is 12.5 weeks pregnant.
The holiday season appeared to be a happy and busy time for the family as they previously shared a video of what goes on inside the Duggar home as they prepare for Christmas. In the video, Michelle revealed that the family chooses to focus on Jesus rather than all the other aspects of Christmas, hence the absence of a Christmas tree. They also shared their blessings with other members of the community as they prepared holiday baskets containing fruit, vitamins, and a Bible. Josh shared an acronym that his mother often says that they should think about during the holiday season—JOY, which stands for Jesus first, others second, yourself last.
On Dec. 24, Jill shared a photo of herself and her husband celebrating Christmas Eve with his family. The next day, they met up with the rest of the Duggar clan for what Jessa called a "Christmas feast."
In other news, the Duggars' show "19 Kids and Counting" has been on break since November, and TLC has chosen a new date for the reality show's new season. The Duggars will return to TV on Tuesday, Feb. 17, 2015.