Dzhokhar and Tamerlan Tsarnaev: Boston Marathon Bombers' Background, Religious Beliefs
Background information is slowly being released on the two suspects who have been identified in the Boston bombings. The men, who are brothers, have been identified as Tamerlan Tsarnaev, 26, and Dzhokhar Tsarnaev, 19.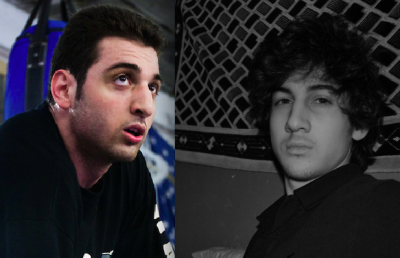 Dzhokhar, the youngest brother, was on the run from police early Friday morning. He was originally born in the south region of Russia near the Chechnyan Republic, according to multiple reports.
Their uncle, Ruslan Tsarni of Montgomery Village, Md., told The Associated Press that the men lived together near Boston and have been in the United States for between eight and 10 years.
According to VKontakte, a Russian social profile similar to Facebook, Dzhokhar attended Cambridge Ringe & Latin School in 2011. Prior to that, from 1999-2001, he studied in Makhachkala, located on the western shore of the Caspian Sea.
Although reports of the brothers' true religious views remain unconfirmed, Dzhokhar himself defined his worldview as "Islam" and listed "career and money" as his top priorities. It appears that the last time the suspect checked his profile was at 5:04 a.m. this morning, E.T.
The elder brother, Tamerlan, was killed early Friday with a bomb strapped to his chest after the criminal pair "robbed a 7-Eleven, shot a police officer to death, carjacked an SUV and hurled explosives in an extraordinary firefight with law enforcement," according to NBC.
Tamerlan appears to have been a competitive boxer for a club named Team Lowell, according to Deadspin. He attended Bunker Hill Community College in Boston before taking time off to focus on his boxing career. Tamerlan dreamed of being "selected for the US Olympic team and be [a] naturalized American," according to Johannes Hirn, who posted a photo essay entitled "Will Box for Passport" on his page on Photoshelter.com.
Tamerlan also maintained a YouTube profile to which he uploaded at least two videos under the category titled "terrorists" and seven videos under the category "Islam."
On the Photoshelter profile, Tamerlan confirmed that he has been in the U.S. for at least five years and defines himself as "very religious." The profile also states that Tamerlan doesn't drink or smoke anymore: "God said no alcohol."
In one photo that pictures Tamerlan with his girlfriend, the profile states that his girlfriend is half Portuguese and half Italian, who converted to Islam. In 2009, Tamerlan was arrested for beating his girlfriend, according to Slate.com.
The Photoshelter profile also notes that even after five years, Tamerlan believed he had no friends in America. "I don't understand them," Tamerlan said, according to the profile.