Earthquake Today: Chile 8.2 Quake Kills 6 as Tsunami Warnings Force Thousands to Flee Coast
**UPDATE - Weds April 2 - 8.46 a.m. ET**
Two northern regions in Chile hit by the magnitude 8.2 earthquake on Tuesday night have been declared to be disaster areas. Authorities have reported that at least six people are known to have died as a result of the massive quake, with tens of thousands of others evacuated.
In addition, authorities in Chile are searching for hundreds of inmates who escaped from a women's prison in the town of Iquique. The Chile interior minister told local media that some 300 inmates had escaped in the chaos following the earthquake, although officials later reported that 26 of the 300 had been recaptured already.
----------------
A massive earthquake of an 8.2 magnitude has struck off the coast of Chile near Iquique at 8.46 p.m. local time, generating a tsunami and sparking warnings across a number of countries along the Latin America Pacific coast, according to the U.S. Geological Survey.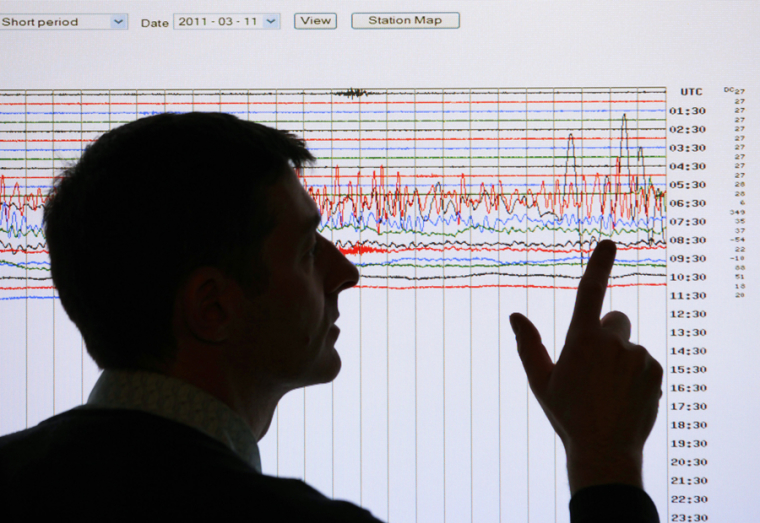 According to the USGS, the quake was shallow, just 6.2 miles (approx. 10km) below the seabed, which would have made it feel much stronger on the surface. The quake was centered about 56 miles north-west of the mining area of Iquique.
The earthquake caused a small landslide in Chile, but there were no immediate reports of deaths or major damage, according to Chilean Deputy Interior Minister Mahmud Aleuy.
However, Chile has ordered all those on its coastal regions to evacuate inland as quickly as possible. Thousands were seen rushing to evacuate in the aftermath of the quake, and on the roads long traffic jams quickly formed, although authorities reported that the atmosphere was relatively calm and residents were not panicking.
A tsunami warning has been put in effect for Chile, Peru and Ecuador, where as a tsunami watch was issued for Colombia, Panama and Costa Rica, according to the Pacific Tsunami Warning Center.
The PTWC confirmed that a tsunami was registered by equipment recording sea levels in the region: "Sea level readings indicate a tsunami was generated. It may have been destructive along coasts near the epicenter and could also be a threat to more distant coasts."
The PTWC has warned that waves as high as 1.92 meters could strike in the coastal town of Pisagua, Chile, and the Chilean navy has reported that some high waves had already hit the nation's coast around 45 minutes after the quake. There are some reports of waves as high as 2 meters (6ft) heading for the Chilean coastline.
The USGS has urged the utmost caution, explaining that a quake of this magnitude had easily enough force to spark a "destructive tsunami" for all coastlines across Latin America on the Pacific coast.
Chile is one of the most seismically active countries in the world and in just 2010 the country experienced an 8.8 magnitude quake, which was followed by a tsunami that hit dozens of towns along the coastal region. In that earthquake about 500 people were killed.
The Chile earthquake also comes just days after a 5.1 quake hit Los Angeles and a 4.8 magnitude tremor struck Yellowstone Park earthquake this past week.