Ebby Steppach News Update: Family Enlists Lead Investigator From Natalee Holloway Case to Help Find Missing Girl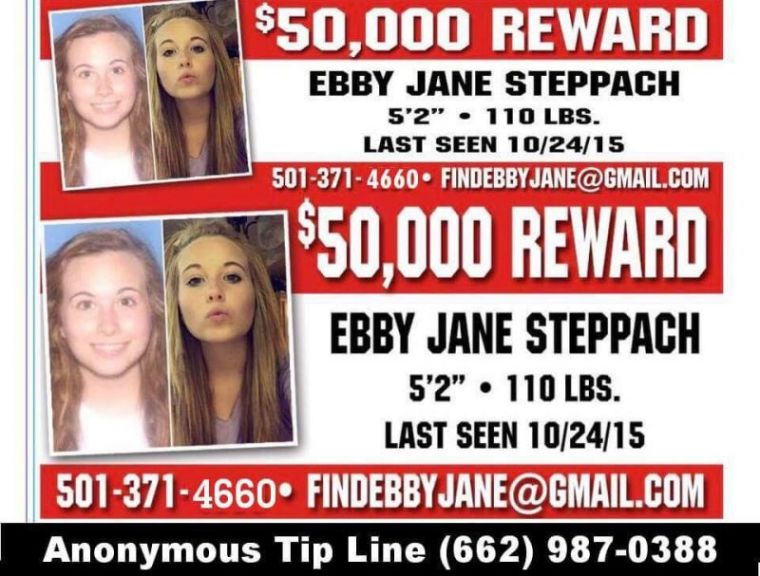 In the continuing search for Ebby Steppach, the family of the Little Rock teenager has recently hired investigator TJ Ward who was also tasked with handling the Natalee Holloway case.
Steppach, who attended Little Rock Central High School, had gone missing on Oct. 24, 2015. She was 18 years old at the time.
While the Little Rock Police Department has been on the case since the report was filed, they still seem to be lacking a big lead that would point them to the direction of finding Steppach.
Steppach's family, on the other hand, remains hopeful about locating the young girl. Her mother, Laurie Jernigan, confirmed to KATV that they had reached out to Ward. She was nevertheless surprised when she got a call from him sooner than she expected.
Jernigan is positive that whoever is involved in the disappearance of her daughter will be captured in time. She told KATV: "We will find her, and we'll find who's responsible for this. They haven't gotten away with anything. It's just a matter of getting to them."
Meanwhile, it was also confirmed that Ward had already met with detectives from the LRPD to go through documents and pieces of evidence to start his work on the case.
The investigator told the local paper: "I looked into the facts and circumstances around it. They were kind of interesting and a puzzle, and of course there was some issues between the family and law enforcement early on."
As mentioned, Ward is also known for his contributions in the Holloway case. The girl had gone missing during her trip to Aruba to celebrate her high school graduation in 2005. Like Steppach, Holloway was 18 years old when she disappeared.
When Ward was called in to look into the case, he went through the evidence which led the decade-long investigation to an informant named Gabriel that helped shed light on what happened to Holloway despite prime suspect Joran van der Sloot's non-conviction.
Meanwhile, as for Steppach's case, the investigator said that the key was going back to where she was last seen -- at a party -- and is hopeful that people in that gathering would help crack the mystery.
"Rest assured, and nature has it, people talk," Ward added.