Ebola Survivor Kent Brantly and Wife to Share Inspiring Story in New Book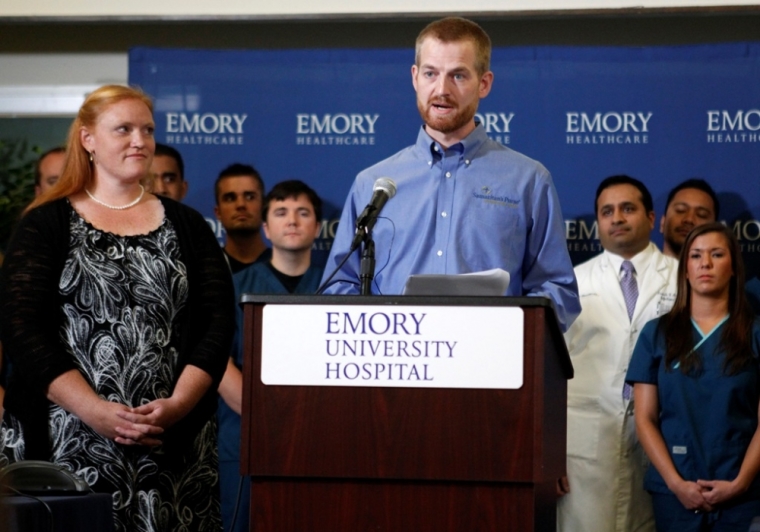 Ebola survivor Dr. Kent Brantly and his wife Amber have signed a book deal with WaterBrook Multnomah Publishing Group to tell their story of surviving Ebola while maintaining their faith in God.
"We are thrilled to partner with Kent and Amber on this book project," Alex Field, WaterBrook's vice president and publisher, said in a statement. "After spending time with the Brantlys, I've been deeply impressed by their sincere desire to follow their passion and calling to help others. Their book will be about how God called them to serve the people of West Africa, and along the way, readers will experience what the Brantlys experienced in the chaos of the Ebola epidemic. We believe that their story will inspire many readers to follow God's calling for their own lives as a result."
Dr. Brantly and his family moved to Liberia to help others affected by the virus, but he himself became infected and was transported back to the United States for treatment in Atlanta, Georgia. He was able to walk into the hospital instead of being brought in by a gurney and continued to improve throughout his stay in the hospital.
"It was a relief to welcome Kent home today," Amber said in a statement at the time. "I spoke with him, and he is glad to be back in the U.S. I am thankful to God for his safe transport and for giving him the strength to walk into the hospital. Please continue praying for Kent and Nancy [Writebol, another American missionary infected with Ebola] and please continue praying for the people of Liberia and those who continue to serve them there."
Before leaving for Liberia, Kent told his church that he was going "because God has a call on my life. God did not give us a spirit of timidity," he quoted the Apostle Paul as saying. Weeks after arriving in Atlanta, he was well enough to be released from Emory University Hospital.
"Today is a miraculous day," he said outside the hospital. "I am thrilled to be alive, to be well and to be reunited with my family. Through the care of the Samaritan's Purse and SIM missionary team in Liberia, the use of an experimental drug, and the expertise and resources of the health care team at Emory University Hospital, God saved my life—a direct answer to thousands and thousands of prayers."
The Brantly's story will be released in the summer and will hopefully be a reminder of the Ebola outbreak in West Africa.