Bishop Eddie Long Divorce 'Storm' Discussed by Wife Vanessa Long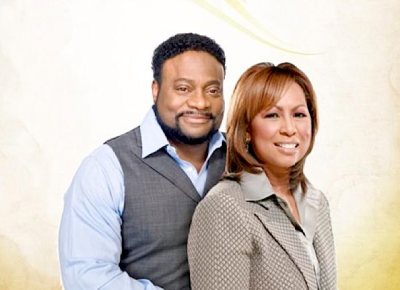 In a recent meeting with the women's ministry at New Birth Missionary Baptist Church, Vanessa Long spoke on the struggles she endured during husband Eddie Long's sexual misconduct allegations in 2010 and her subsequent filing for divorce in 2011, a petition which she ultimately chose to close and dismiss.
"I was in the middle of a storm, and I got off the ship," Long metaphorically explained of her marriage struggles to the hundreds of women attending the Heart to Heart women's ministry on Aug. 21, which is coordinated by New Birth Baptist Church and serves as a speaking forum for Christian women.
Long, an elder at New Birth, told those in attendance that while she struggled with the decision to divorce Bishop Eddie Long after he was faced with multiple accusations of sexual misconduct with male minors in Sept. 2010, she ultimately chose to return to her marriage and to the New Birth family so she could share her experience and offer guidance for others.
"I realized that the best thing I could do was to let you see me as a woman, just like you. A woman capable of making good decisions and a woman capable of making bad decisions," Long told the audience, struggling to hold back tears as she received a standing ovation.
"Instead of condemning myself, I can use what happened as an opportunity to minister myself to someone else going through a storm," Long concluded.
Long received immense support for speaking to the Heart to Heart ministry, with several congregants on New Birth Missionary Baptist Church's Facebook page calling her speech "powerful," "inspiring," and spiritual."
Vanessa Long Speaks Out
 "God is and will always be in control. Some of us will leave the boat during the storm, but it takes a true Virtuous woman to get back on and conquer. Love you…First Lady Long," commented Rhonda Chapman.
Long announced on Dec. 2, 2011 that she would be terminating her marriage to husband Eddie Long, who is the senior pastor of New Birth Missionary Baptist Church located in Lithonia, Ga., a suburb in Atlanta.
Shortly after her announcement, Long changed her mind several times, releasing a series of statements which both confirmed and denied her plans to file for divorce.
Ultimately, on Feb. 13, 2011, the divorce case was "dismissed without prejudice," meaning the case may be re-instituted or re-filed in the future.
Long's divorce filing came after her husband was the subject of five separate allegations of sexual misconduct with male minors of his congregation in 2010.
Four of the five alleged victims filed lawsuits against Long in Sept. 2010. In May 2011, all four lawsuits were settled out of court with undisclosed terms.
It is worth noting that Vanessa Long chose to speak on her marital struggles nearly two years to the date of her husband's accusations of sexual misconduct.
Long has been married to her husband for 23 years. They share three children together.
Bishop Eddie Long's wife files for Divorce, Then Retracts 12/1/2011