Elevation Church Internal Report Reveals $86 Million Expansion Plan
Document Obtained by Charlotte TV News Station Reveals 5 Potential New Campuses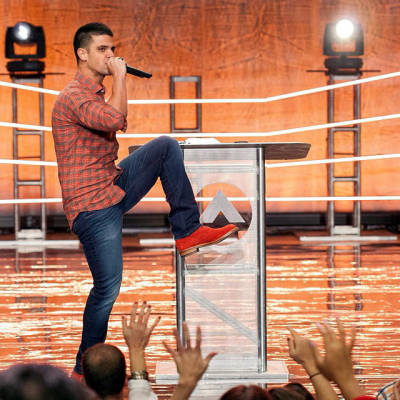 Pastor Steven Furtick of Elevation Church in North Carolina remains in the media this week as the local television news station that previously disclosed the Christian minister's 16,000-square-foot home has obtained an internal report from his multi-campus ministry that shows the Charlotte megachurch has plans for further expansion.
WCNC-TV in Charlotte did not reveal how it obtained a copy of one of Elevation Church's internal reports, which reads on one page: "Prepared for the private and confidential use of Pastor Steven Furtick...Chunks Corbett [and] selected members of the staff." The information in the report includes data collected between Jan. 1, 2013 and Sept. 1, 2013. The report appears unrelated to the 2012 annual report Elevation Church made available (.pdf) on its website last week,
Below is some of the information revealed by WCNC-TV from Elevation Church's internal report:
Elevation proudly shares some numbers while keeping others a closely guarded secret. For instance, it totals the number of salvations as 3,785 this year through the first of September, and the number of baptisms as 3,519. It systematically counts the number of people at each service in its eight locations, now regularly totaling more than 14,000 a week.
... Elevation and its pastor, Steven Furtick, refuse to disclose audited financial statements, salaries, tax-free housing allowances and contracts with for-profit publishers. The confidential report shows that for the first 35 weeks of 2013, Elevation's average combined operating and expansion offerings, excluding its Toronto location, stood at $550,775.50.

Elevation does not disclose its audited financial statement, even to donors and members. Instead it releases a glossy, full-color annual report. The report counts the number of breath mints one "campus pastor" eats, the number of minutes of music from the rock band AC/DC played at the church, and whether the pastor wears a V-neck shirt. It does not reveal the pastor's salary or benefits.

The 34-page confidential document produced for the Elevation Church "Expansion Team" contains a spreadsheet of the costs of five potential new locations, only two of which have been publicly revealed, a new 1600-seat worship center in Ballantyne, and a new 1200-seat worship center at the former Palace Cinema off of West Catawba at Exit 28 off of I-77 near Lake Norman.
News of the confidential report comes amid questions concerning the salary paid to Pastor Furtick, who in October took to the pulpit at Elevation Church to inform the congregation that "this news reporter [was] trying to do this story where he wants to make our church look bad."
The subsequent WCNC-TV report focused on a 16,000-square-foot home worth more than $1.7 million that was being built by Furtick, according to building permits obtained by the news station.
The megachurch pastor, whose congregation is one of the fastest growing in the U.S. and quite generously in its outreach, has insisted that he used income from his book sales to pay for the new house, which he suggested was a gift from God.
"My wife and I made a decision, and we built a house," Furtick told his congregation on Oct. 27. "It's a big house, and it's a beautiful house, and we thank God for it …. We understand everything we have comes from God."
Pastor Furtick, married with three children, founded Elevation Church in 2006 and serves as pastor to about 14,000 people. The church is affiliated with the Southern Baptist Convention.
Read a previous report on the megachurch leaders who decide Furtick's salary and reportedly influence his ministry, and The Christian Post's exclusive interview with Pastor Furtick about his ministry.