Enraged Muslim Mob Prevents Family From Burying Blaspheming Relative in Village Graveyard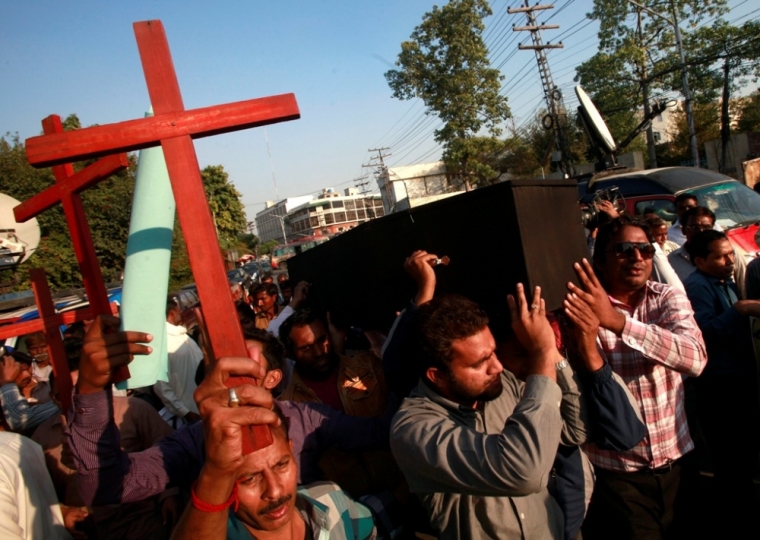 An enraged Muslim mob in the Punjab province of Pakistan has prevented a family from burying their loved one, who was previously imprisoned for blasphemy, in their village graveyard. Aabid Mehmood was kidnapped and murdered by masked gunmen after his release.
After 52-year-old Mehmood, who owned a hotel in the Kamra village, claimed in 2011 that he was a prophet of Allah, his own son-in-law filed a blasphemy case against him. After spending over two years in jail, Mehmood was released from prison because of his mentally and physically unstable condition.
As Dawn.com reports, just days after Mehmood's release from prison, he was kidnapped from his home in Ahatta by masked extremists. His body was found last Wednesday near a train station with numerous bullet wounds to the head and chest.
When Mehmood's family wanted to bury him in the village's local graveyard, the family was met by a mob that gathered there to prevent them from burying Mehmood.
Because they could not bury him in the graveyard, the report states that the family had to resort to burying their loved one in their own family courtyard instead.
A police officer named Ayub told reporters that the department will investigate multiple motives and angles, including "targeted killing" and "personal dispute," in Mehmood's murder.
Radical violence against blasphemers has increased in Pakistan in recent years. Many Christians have become victims of violence after being accused of blasphemy.
Under Pakistan's strict blasphemy laws, anyone who insults Muhammad or insinuates an insult at Muhammad is liable to be punished by death. Thirty-eight people in Pakistan are currently serving life sentences or sitting on death row because of blasphemy charges, Knox Thames, directory of policy research at the U.S. Commission on International Religious Freedom, wrote in a piece for the news site Foreign Policy.
Thames noted that Pakistan has more people jailed for blasphemy than any other country in the world.
Even though the Pakistani government strictly enforces its blasphemy law by imprisonment and death, those who escape their blasphemy accusations without life imprisonment or capital punishment are at the risk of being killed or beaten by radical Muslims.
"Extremists victimize not just non-Muslims but Muslims who dissent from the extremists' radical interpretations of Islam," Thames wrote. "Impunity increasingly reigns, as militants and mobs regularly perpetrate attacks with little or no state response."
According to statistics from The Economist, over 30 people accused of blasphemy in Pakistan have been killed in the last five years. With over 100 accusations of blasphemy filed in 2014, the report states that blasphemy accusations in Pakistan are on a sharp rise and even the simplest mistakes are grounds for such an accusation.
"'Blasphemy' can now include spelling errors by children or throwing away a visiting-card bearing the name 'Muhammad,'" the report states.
As shown in the mob's denial of Mehmood's burial, the persecution of blasphemers and religious minorities in Pakistan still exists even when they are deceased.
According to Our Sunday Visitor, on a number of occasions, Muslims have commandeered Christian and Ahmadi graveyards and repurposed the land for commercial or residential use. In Pasur, another town in Punjab, Christians have been fighting for over five years to keep their cemetery. However, they are in danger of losing that battle as politicians are claiming ownership of a portion of the graveyard.
"The area is now engulfed by houses and its value has quadrupled," Sudheer Jamal, former general secretary of the non-governmental organization Christian Welfare Society, told OSV. "Normally, they use one of the following tactics to occupy the cemeteries: blocking the road to the graveyard or extending their farms. Christians are poor, mostly they are in debt to landlords or afraid of blasphemy charges."
In one instance when a Punjabi politician gave Christians permission to build a graveyard in the town of Torey Wala, local Muslims, who objected to the land being used to house a Christian graveyard, prevented the Christians from building it and also had eight Christians jailed.
"A local politician permitted us to use an empty acre for burying our dead, and we had even erected mud walls around it," a Christian named Javed Masih told OSV. "The walls were pulled down the same evening after Muslims objected at the land occupation, and Christians apologized. That night, the mosque loudspeakers were used to announce that Isai (a common term for Christians) have occupied the old graves of Muslims. Eight Christians were sent to jail."