Episcopal Church Head Michael Curry Meets U2, Talks About 'Reclaiming Jesus' and Changing the World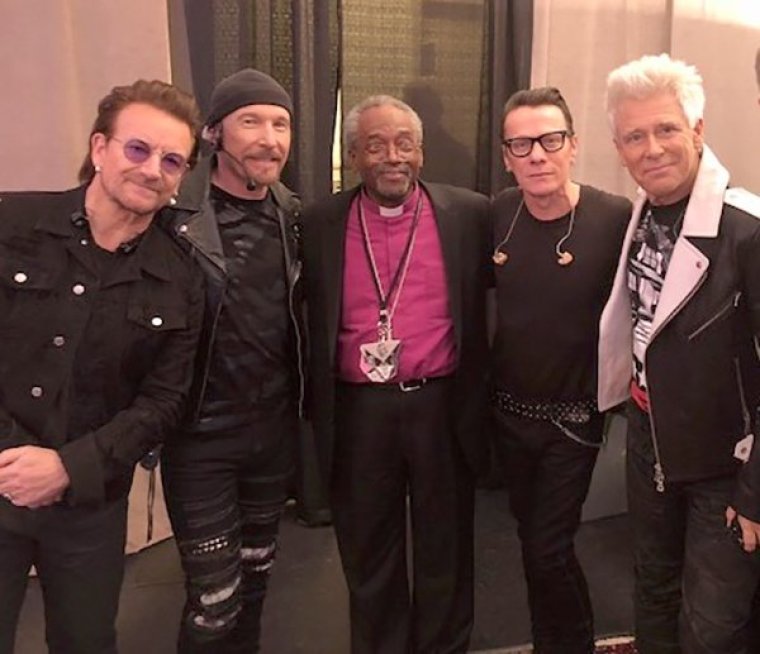 Episcopal Presiding Bishop Michael Curry, who presided over Prince Harry's royal wedding in England, met with rock star Bono and the band U2, and spoke to them about his "Reclaiming Jesus" initiative and how they can change the world.
"I know of no other group that has sung and witnessed more powerfully to the way of love than U2," Curry told Episcopal News Service on Wednesday.
"It was a real blessing to sit with them to talk about Jesus, the way of love, and changing our lives and the world. They are an extraordinary community gift to us all."
The bishop posted on Twitter a photo of himself with the band members when he met them in New York earlier this week before one of their concerts, with the caption "it's a beautiful day," a reference to one of their songs.
"I shared with them our commitment to reclaim Jesus of Nazareth as the center of Christian faith and life," Curry stated.
"And this means a way of faith with love of God and love of neighbor at the core. A love that is not sentimental but a disciplined commitment and spiritual practice infusing every aspect of life, personally, intra personally and politically."
The 'Reclaiming Jesus' movement was launched at the end of May, and includes figures like progressive evangelical leader Jim Wallis, former Bill Clinton spiritual adviser Tony Campolo and other left-leaning Christian leaders.
"We are not a partisan group. We are not a left-wing group. We are not a right-wing group. We are a Jesus movement," Curry said at the Disciples of Christ national church in Washington, D.C., when announcing the initiative.
"We came together as Protestant, Catholic, evangelical. We came together — Republicans, Independents and Democrats. We came together — liberal and conservative and whatever is in the middle. We came together because what is uniting us together is Jesus of Nazareth."
Hundreds joined in a procession to the White House in opposition to racism, misogyny and the immorality of political leaders.
Curry gained global attention after delivering a passionate sermon a week earlier on love at the royal wedding of Prince Harry and Meghan Markle, now the Duke and Duchess of Sussex.
He has been criticized by some conservative Christians for his support of same-sex marriage, however.
"The guy who talked about 'love' from that English pulpit is currently litigating Christians with whom he disagrees. The guy who talks about the 'Jesus movement' took the church buildings and defrocked those who stood up for the Gospel," wrote Andrew Gross, communications director for the Anglican Church in North America.
"The reaction to a false teacher being given the platform at the royal wedding was a spiritual temperature gauge. The results show that a lot of the western church is running a dangerous fever."
U2 has allowed their Christian faith to serve as inspiration behind some of their music, including the 2017 song "American Soul," which included an intro reflecting the Beatitudes and Jesus' words in the Bible.
The band, however, has also faced criticism from some Christian fans, particularly after Bono's decision to back legalizing abortion in Ireland's national referendum in May.
"Man, I'm so disappointed with Bono. I'll still listen to his music but I'm just sad that, having poured out his voice for the vulnerable, he is turning his back on those precious souls who have no voice," tweeted Pastor Daniel Darling, vice president for Communications at the Ethics & Religious Liberty Commission.