Eric Metaxas: Christians Should Be Joyful, But Not Happy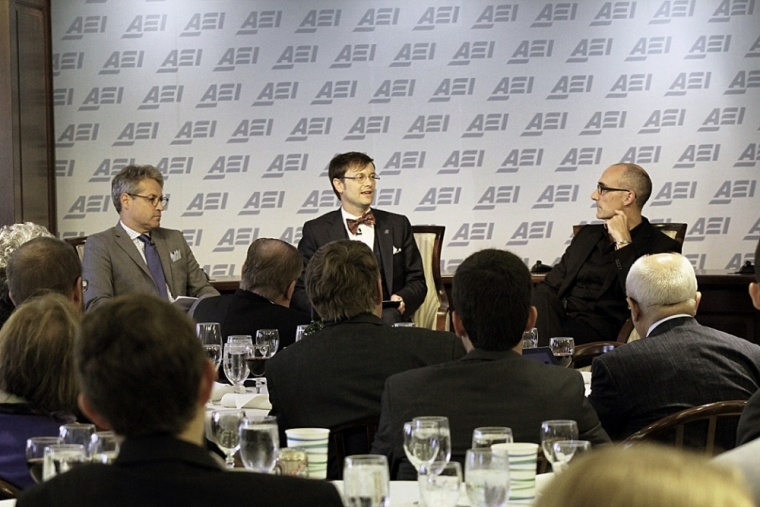 WASHINGTON — Best-selling author and intellectual Eric Metaxas believes that happiness is not an emotional state Christians should pursue.
"I want to be the skunk of the garden party and say that I think the whole idea of happiness is stupid," Metaxas asserted at the American Enterprise Institute's Evangelical Leadership Summit on Wednesday.
"Really, what it means is luck. So, 'how you doing?' 'I'm happy.' Things are going my way, is really what that means," Metaxas explained.
"We all know that's very shallow concept. To me, chasing happiness it's a fool's errand. The idea that we can chase happiness, it's like living your life for vacation or retirement. When you get there, it's like the dog that catches the car. What do you do when you catch it?"
When asked by The Chirstian Post what Christians should be if not happy, Metaxas responded that they should be "joyful," which he considers a more permanent state.
"In Scripture, we're commanded to rejoice in the Lord always, and you think: how can God command something unless it's possible?" Metaxas asserted.
"To rejoice in the Lord in the midst of any circumstance is something that is not only possible, but it's precisely what we were made to do," he said.
"There's something about the idea of happiness that's really a temporary idea. How can I be happy? Well, in a way it's like saying how can I be lucky or how can I be fortunate," Metaxas added. "That kind of thing goes away and I think that we have to develop inner resources. So it's really about joy and about building character."
In addition to Metaxas, other panelists included AEI President Arthur C. Brooks and Greg Thornbury of The King's College in New York City.
"I've noticed the creep of this, particularly in Evangelical circles over the last decade, maybe 15 years, of talk about the common good, human flourishing and happiness," Thornbury commented.
"But what is happiness? Is it possible to even know? And in what ways might it be counterintuitive than what our, you know, sociopolitical cultural backgrounds might have us to believe."
For his part in the philosophically-themed panel, Brooks talked about how he believes that the present understanding of happiness in American culture is novel.
"It's amazing how the definition of happiness has changed over the years … until relatively recently, happiness was not something you felt; happiness was a good life well lived, according to Aristotle," Brooks asserted.
"So I could tell you, by looking at your virtue, whether or not you were a happy person. You could be drowning in clinical depression, but if you were living a good life well lived, by the standards of community virtue as I saw it, I'd say, well, axiomatically you're happy."
The panel discussion was part of the first annual Evangelical Leadership Summit hosted by AEI's Values & Capitalism campaign.
Held earlier this week on Tuesday and Wednesday, the summit featured numerous Evangelical Christian writers and business leaders.
Speakers included Russell Moore, president of the Ethics & Religious Liberty Commission of the Southern Baptist Convention; Rep. Frank Wolf, R-Virginia; Andy Crouch of Christianity Today; and Byron Johnson of Baylor University's Institute for Studies in Religion.