Evangelical Rep. of 1.5 Million Christians Reflects on Worshipping With the Pope, Comments on Protestant Problem With Papacy
A.R. Bernard, Pastor of 37,000-Member Christian Cultural Center and President of Council of Churches, Says Multi-Religious Event Was 'Amazing Experience'
The Rev. A. R. Bernard, pastor of New York City's largest church and president of the Churches of the City of New York that represents 1.5 million Christians, called the multi-religious worship experience with Pope Francis at the National September 11 Memorial and Museum an "amazing experience." He also addressed concerns some Christians might have about "the concept of the papacy."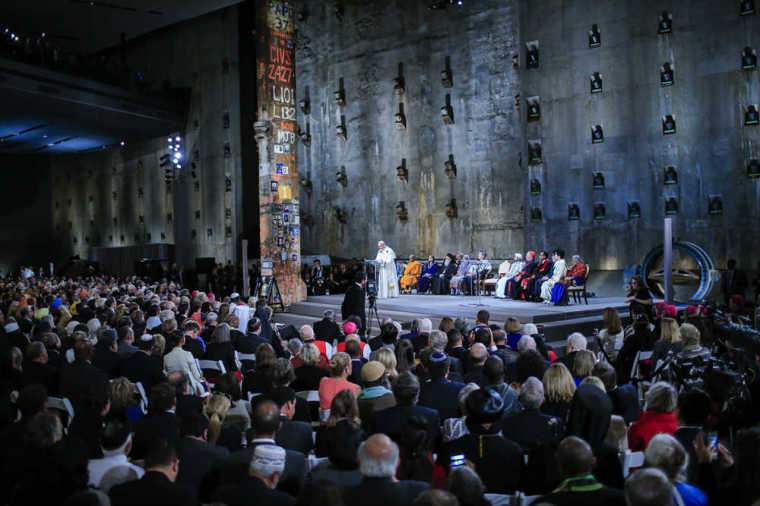 "I will tell you, it was beautiful, it was deep, it was moving and I think with the backdrop of 9/11 where it was religious extremism that created that situation and brought America to a whole new place in this country, as that being the backdrop and to have religious leaders from around the world, in terms of the religious expressions around the world, coming together like that was very, very special," Bernard said, reflecting on the Sept. 25 gathering during a broadcast of his radio program.
Bernard also revealed that he was chosen to greet Benedict XVI on behalf of the Protestant community when the then-pope visited New York City in 2008. The pastor of the 37,000-member Christian Cultural Center marveled that "here it is seven years later and I have the opportunity to actually go from greeting to worshipping with the new pontiff, Pope Francis."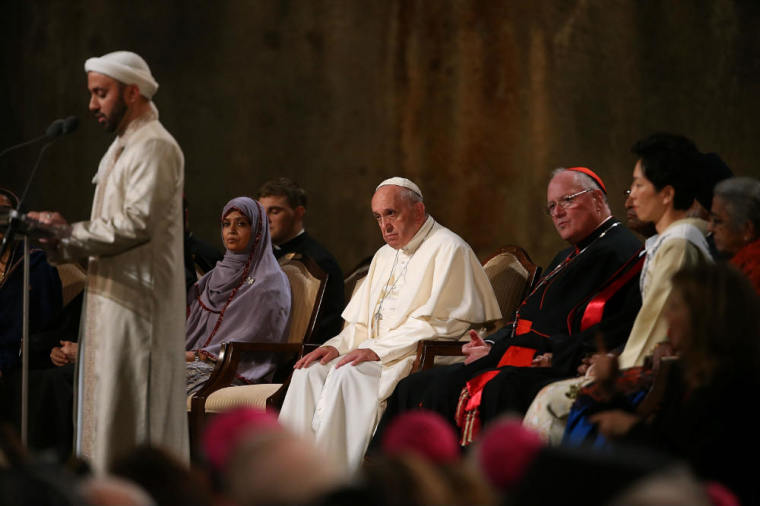 The gathering, officially titled "A Multi-Religious Gathering With Pope Francis," presented reflections and meditations on peace and involved 13 other leaders (including New York Archbishop Cardinal Timothy M. Dolan) representing the Jewish, Islamic, Hindu, Buddhist, Sikh, and Christian faiths (Protestant and Greek Orthodox).
Bernard read from the Beatitudes, or blessings, included in Matthew 5:3-10.


Bernard also shared his thoughts on meeting Francis, whom he described as "very warm" and "very charismatic." He added that he found the pontiff "consistent with what he has presented, and that is to be the people's pope."
"He's like what you see is what you get, I genuinely felt that," added Bernard. "I'll be honest, if I didn't feel that, if he was cold, I would say so, but I was very taken. This pope has presented a tone of inclusiveness that the media has highlighted. But the reality is, although he has expressed that tone of inclusiveness, he hasn't changed Catholic doctrine. It is still what it is and has been in terms of orthodoxy for the last 2,000 years. It was a blessing."
The megachurch leader also commented on concerns some Evangelical or fundamentalist Christians have about the papacy, which positions the pope as the vicar of Christ on Earth, or the supreme pastor of the Roman Catholic Church. The Roman Catholic Church claims to be Christ's only true Church due to the papacy's said lineage to Apostle Peter, according to the Church's interpretation of Matthew 16.
Bernard acknowledged that the idea of the papacy might make some Christians uncomfortable with being in such a setting with a pope. He referred to the Reformation era, when theologians like Martin Luther and John Calvin vehemently challenged Roman Catholic doctrines, particularly on the athority of the pope.
There are Protestant leaders who seem open to amicable relations with the Vatican in an effort to truly have a Catholic, or universal Church, Bernard said, pointing to what he said were efforts made on Rome's part to bridge the divide.
As for himself, the pastor revealed that although he disagrees with some Roman Catholic doctrine, he has no problem sitting down and talking to those with whom he disagrees because "it doesn't mean that I subscribe to their doctrine, to their notion."
"There are Christians out there who say, 'No, this is wrong. The papacy represents something.' And they'll find Scripture to say that it's something other than what we should be associated with. And yet, for me, it's like Daniel. Daniel was a prophet, he was in Babylon, he spoke the language, he took on the name of Babylonian culture, he wore the clothes," said Bernard.
According to the Jewish Bible, Daniel was taken into captivity when the Babylonians destroyed his homeland. He and his captive friends stuck to their religious convictions in the face of death and Daniel eventually rose to prominence as a top leader in the Babylonian and Persian kingdoms.
Bernard went on to explain how Daniel's title while in Babylon was "prince of the magicians," the wise men who advised the king.
"I'm sure there are some Christians, fundamentalist Christian who would have a problem with that," Bernard added. "But I don't. I can sit down with anyone of any religion and not feel that I'm compromising what I believe, because I know what I believe and I'm firm in that belief. I think we need more Christians like that."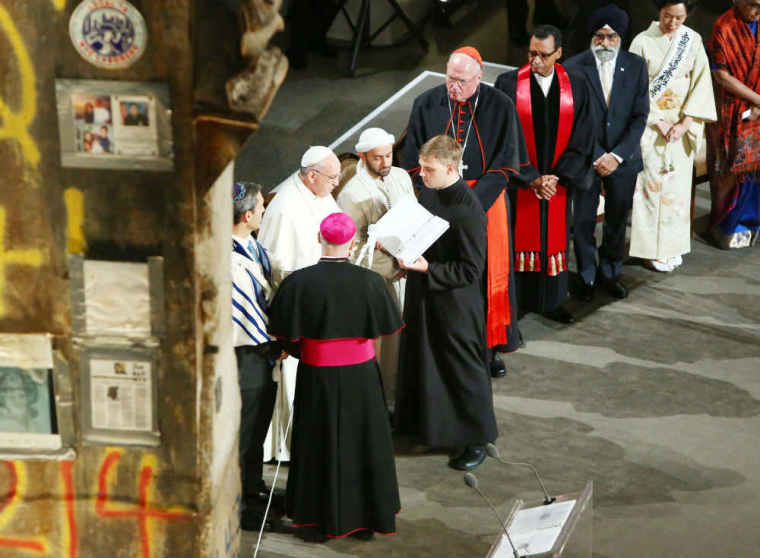 The multi-religious gathering was held Sept. 25 at the National September 11 Memorial and Museum in lower Manhattan, and featured the pope and other religious leaders situated on a stage before a diverse audience of about 700 people at the museum's Foundation Hall.
In addition to giving an official address (read it here), Francis offered a "Prayer for Remembrance" during the ceremony, also including 9/11 families and first responders whom he met with earlier at the reflecting pools at Ground Zero.
The multi-religious gathering and Ground Zero meeting were among several events included in Francis' first-ever journey to Cuba and to the United States, the latter of which included stops in Washington, D.C., and Philadelphia.