Evangelicals: Ann Coulter Speaks Only for Herself on Criticism of Christian Ebola Doctor; She Needs to Ask WWJD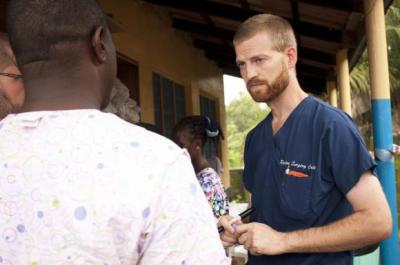 Conservative commentator and author Ann Coulter continues to take hits from evangelicals for her argument that Christians like Dr. Kent Brantly who contracted Ebola on a mission trip to Liberia should consider doing good deeds in America before serving in a Third World country.
LifeWay Research division president Ed Stetzer, one of the more recent critics of Coulter's op-ed "Ebola Doc's Condition Downgraded to 'Idiotic'," took to Twitter to show his disagreement.
"If you let @AnnCoulter define God's mission, you're doing it wrong: http://bit.ly/V4pU77 #JumpingTheMissionShark," Stetzer tweeted.
Coulter asks in her column, "Why did Dr. Brantly have to go to Africa? The very first 'risk factor' listed by the Mayo Clinic for Ebola — an incurable disease with a 90 percent fatality rate — is: 'Travel to Africa.'" And then asks, "Can't anyone serve Christ in America anymore?"
When asked by The Christian Post to elaborate on his tweet, Stetzer said, "Ann Coulter needs to work to reflect Jesus in her words rather than criticizing others who are following Him to help the hurting.
"Ann asked, 'Why did Dr. Brantly have to go to Africa?' The answer is simple: because that's what Christians are often called to do — go and serve rather than critique and complain."
He guesses Coulter was trying to say evangelism within the U.S. is primary, but that she ended up "harming the cause of evangelism and the cause of mission."
He implied that Coultor spoke out of turn and said, "Sometimes, the best thing we can do is to listen to another part of the Bible called Proverbs, which talks a lot about people who speak too soon and too often. If she thinks evangelizing the rich and influential is more important than saving the lives of the poor and forgotten, she might want to lean into the Gospels a bit more. We can both show the love of Jesus and share it at the same time."
Stetzer added, "When it comes to God's mission, I'm going to listen to an Ebola infected medical missionary over Ann Coulter."
Peter Rosenberger, who is president of Standing With Hope, Inc. a non-profit prosthetic limb outreach that teaches and equips local workers in Ghana to provide prosthetic limbs for their own people, echoed Stetzer's thoughts on Coulter's argument in a piece published in the opinion section of FoxNews.com.
"Ann Coulter doesn't speak for anyone other than Ann Coulter," Rosenberger wrote. "For us, going on a mission field is not about escaping anything in America, but rather promoting what is best about America: freedom and compassion.
"Along the way, we have the personal benefit of participating in the humility of service that mirrors what our Lord did on our behalf. Christ took the ultimate mission trip when he went to, as Ann Coulter would describe it, the 'disease ridden cesspool' of this world and offered salvation," he writes.
"Through my own experience working in West Africa, I feel I've become a better American. I've come to treasure my country more, feel more passionate and get more involved in issues here, and have developed a deeper faith through the process," writes Rosenberger.