Evangelicals Are Hungry for Leadership, Teaching on Immigration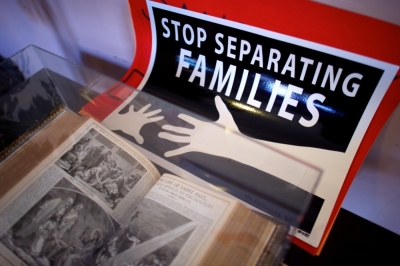 Most Evangelicals want to learn more about what the Bible can teach us about immigration. Will pastors meet this challenge?
The past few months have been frustrating for those of us who support comprehensive immigration reform. But for Christians who believe that Scripture compels us to seek more just immigration policies, recent polling offers hope and inspires us to redouble our efforts.
It is understandable that we feel discouraged. Once again, Congress is at a stalemate. Republicans continue with the desire to neutralize President Obama's executive action of late November last year or to eliminate provisions one-by-one. Meanwhile, a U.S. district judge in Texas has placed a preliminary injunction on the implementation of part of that presidential order designed to temporarily remove the threat of deportation.
Clearly, this is all messy business, and whatever unfolds inevitably will generate yet more anger and ill will. Many of those who do not have legal status continue to lose trust in this country's legal system, as well as its legislative and political system.
Two experiences, however, have given me energy to keep working to make a difference — one grounded in faith commitments, the other focused largely on local efforts by advocacy groups.
On March 4 national evangelical leaders who head up educational institutions, denominations, or ministries, gathered in Atlanta to ask, "Where do we go from here?" Discussions based on faith commitments and experiences from around the country reminded all those attending that a divine mandate shines through, whatever the sociocultural situation might project.
Therein also lies the challenge. Recent polling by LifeWay Research reveals how minimal is the influence of the biblical material on migration within evangelical local churches and on personal views. In other words, there is still much work for us to do at the grassroots level. What lies before us, then, is not only to look for signs of hope. We must get back to the task of sharing what God has to say in the Bible about migration and immigrants.
This LifeWay Research polling revealed a community willing to listen: Among the 1,000 evangelicals surveyed, 68 percent said they would like to hear a sermon focused on how biblical principles apply to immigration issues—the same percentage that said their church never had encouraged them to reach out to immigrants.
A strong majority support immigration reform that follows biblical principles: 82 percent of those surveyed support immigration reform that respects an individual's God-given dignity, and 72 percent say reform should respect the unity of the immediate family. Respondents also want reform to ensure border security and fairness to taxpayers. Notably, 61 percent say it should establish a path to legal status and/or citizenship for undocumented immigrants who meet certain requirements.
Exactly one week after the gathering in Atlanta, I attended a meeting called by a U.S. representative from the metro-Denver area who was in town during a recess from Washington.
Although some faith leaders were present, those who spoke up more were representatives from advocacy groups that are involved in helping immigrants with various kinds of legal advice.
To watch this was a reminder again that, even though there is much to do in the nation's capital, individuals and families need help in the here and now. It reinforced the need to focus on the grassroots, and the importance of people of faith learning to work with and learn from people within the secular realm.
Where do we go from here? We move forward, with God's help and hand-in-hand with others. A good start will be to reach out to the evangelical Christians in the pews who want to hear from their pastors and other leaders.
The more evangelical Christians who connect with immigrants and immigration through the Bible and their church, the better the prospects will be for an immigration conversation that qualifies as biblical, not just political. That possibility should inspire us and give us hope.