Evangelist Andrew Palau Proclaims Gospel to Hundreds of Thousands at March for Jesus in Brazil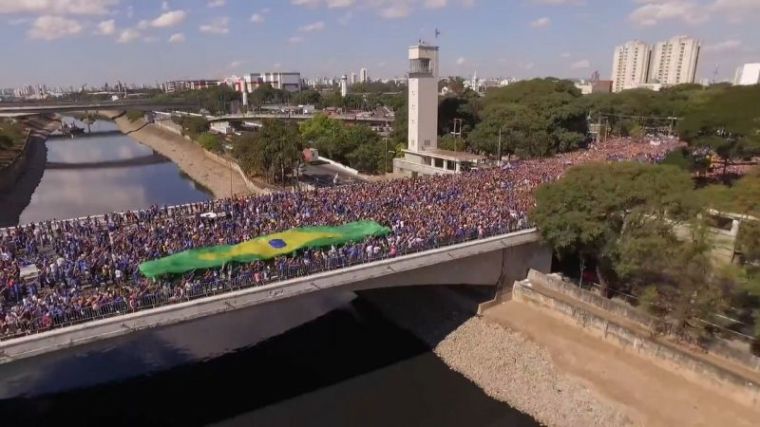 Evangelist Andrew Palau, who is the son of famed global preacher Luis Palau, spoke at the massive March for Jesus festival in São Paulo, Brazil, which gathered hundreds of thousands on the streets last week.
"To see so many people marching in unity of their dedication to follow Jesus together, it was truly unbelievable," Palau said of the event, which started on May 31 and featured street parades, musical performances, and Bible readings.
The Luis Palau Association said an exact number of participants has not been provided yet, but said that the crowd grew to "several hundred thousands" throughout the day.
The event was described as "as one of the largest gatherings of its kind and proved to be a truly blessed Gospel moment for the Church and the nation," following 25 years of similar marches around the world.
Videos and social media messages reached millions of others throughout the world who followed the event.
Palau's message at the end of the night was focused on John 10:10, which reads, "The thief comes only to steal and kill and destroy; I have come that they may have life, and have it to the full."
The evangelist urged participants to place their trust in Jesus, to publicly confess Christ, and "dig into" the Bible as a means to pursue God on a daily basis.
Luis Palau was originally scheduled to preach at the event in Brazil, but his stage IV lung cancer diagnosis in January prevented him from doing so.
The minister has made progress as he undergoes chemotherapy, saying in March that even his doctors are shocked.
"We had a very encouraging meeting with the doctors this morning regarding my chemotherapy treatment," Palau wrote on his Facebook page at the time. "After two months of therapy for Stage 4 lung cancer, the doctors were amazed at the results from the recent CT scan and blood work."
"All tumors had shrunk by one-third! No new growth of the tumors whatsoever. All fluid around my lungs was resolved. Blood work looked good," he added, noting that the results are uncommon for someone with stage four cancer.
"PRAISE THE LORD! The medical team reiterated that this chemotherapy treatment was only expected to slow the growth of the tumors. They never expected the treatment to actually reverse the growth. Everyone is very encouraged and praising the Lord for the wonderful news," the evangelist said.
The Palau Association has helped put together hundreds of citywide campaigns bringing together tens and hundreds of thousands of people for rallies and evangelistic festivals on five continents.